MAGLNThompson
From MasonicGenealogy
NEWELL ALDRICH THOMPSON 1808-1874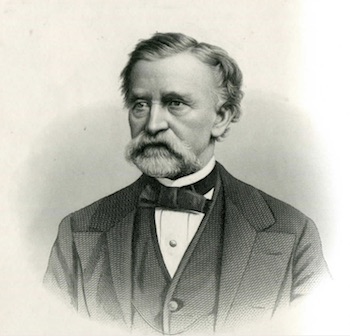 MEMORIAL
PROCEEDINGS, 1874
From Proceedings, Page 1874-52:
Whereas by the dispensations of our Heavenly Father, which are always wise and full of tenderness and loving kindness to all the children of men, we are called upon to confront and deplore the absence of our friend and Brother Newell A. Thompson, who through the unchangeable law of nature has been translated from this to another and higher sphere ; and whereas we desire to testify our respect for his memory and our regard for his many amiable qualities and virtues; therefore
Resolved, That this Grand Lodge in the death of R. W. Newell A. Thompson is deprived of an estimable Brother, who for many years has endeared himself to the members of the Craft, and on whom she has conferred some of the highest honors in her gift; honors that were always worn worthily and. well.
Resolved, That though in parting with this loved Brother and courteous gentleman, our hearts are filled with sadness, yet we feel sustained and soothed as we recognize and remember his noble qualities as a man and true-hearted friend; his zeal and attachment to this ancient Institution ; and the universal sentiment of respect for him entertained by society. We feel cheered and comforted as we consider and believe, that earth is not man's abiding place, and that as the years pass away, we shall, one by one, be gathered to his side and join the illustrious departed of this Grand Body who have gone before.
Resolved, That the family and relatives of our deceased Brother are remembered in their sorrow, and we tender to them our kindest sympathies. All of which is respectfully submitted.
WILLIAM W. BAKER,
Committee.
NEW ENGLAND FREEMASON, 1874
From New England Freemason, Vol. I, No. 4, April 1874, p. 193:
"As one by one the Master calls,
To those who watch and wait—"
So repeatedly are we reminded of the uncertainty of life, and so are we often inexorably led to remember that we all, slowly, perhaps, but surely, are following in the footsteps of those who have gone before. In our first number, we made the painful announcement of the death of R. W. Charles W. Moore, and it is with renewed sorrow that in this issue we record the death of another dearly loved friend and Brother, who died at his residence in Boston, on Friday, April 10, at the age of sixty-five years. Ilis malady was a disease of the brain. It was evident from the commencement that the result could easily be foretold. It was also evident that it had been slowly progressing for some time past, though ho was confined to his house but about two weeks. So much has already been written and published of his life and character that it seems superfluous to repeat it here. We will, therefore, content ourselves with a brief statement.
Newell Aldrich Thompson was born in Uxbridge, Mass., Dec. 2, 1808. His early education was such as was afforded by the common schools of the time, and was of the simplest. In 1829, he came to Boston, alone and unassisted, to seek his fortune. He soon succeeded in obtaining a situation in the law office of the late John Heard. During seven years, in addition to his usual and prescribed labor, he gained by persevering study a knowledge of the law, and to such an extent that, in 1836, he was enabled to commence practice ; which, however, he Boon relinquished for other pursuits. Eventually he became an auctioneer, his specialty being real estate, in which business he has acquired, we believe, a competency. Our Bro. John McClellan has been constantly associated with Bro. Thompson for the past twenty-eight years, including twelve years as a partner. Bro. Thompson was initiated into Masonry in Columbian Lodge, Feb. 20, 1845, and received his degrees at the hand of the venerable Brother R. W. Geo. G. Smith, in company with R. W. Bros. John T. Heard and William W. Baker. R. W. Bro. John McClellan, present Grand Treasurer, had received his degrees in the same Lodge, in the previous year, and it is a noteworthy fact that the three Brethren above named sat with Bro. Thompson at the last Communication of the Grand Lodge of Massachusetts. Bro. Thompson believing the post of honor to be the private station, rarely took office. He was Commander-in- chief of Boston Consistory in 1863, Dist. Dep. G. Master of the 12th Masonic District in 1864, 1865 and 1866, and in 1867 was, by Grand Master Dame, appointed Deputy Grand Master. In 1862, he was elected to the exalted position of S. G. I. G. of the 33d and last degree of the A. & A. Rite.
It might be out of place here to enumerate the different political, military and social positions held by our late Brother, at various times, in the last forty years. Suffice it to say that whatever he undertook to do, he did well. He never disappointed his constituents, and whenever he accepted a position they felt confident that the duties of the office would be performed, in a faithful and conscien¬ tious manner. But it was not only as one whom the people delighted to honor that Bro. Thompson appeared to advantage. From the nature of his business, he acquired much experience in connection with wills, mortgages, conveyances, and other transfers of real property, and we know that to many a poor man, widow and orphan, he has given freely and readily the otherwise costly advice or information. His charity and generosity were universally known and distinguished the man.
If there is such a being as a self-made man, Bro. Thompson was emphatically one. Thrown upon the world at an early age, and left dependent on his own resources, he early learned to "grapple with those twin jailors of the daring heart, low birth and iron fortune," and nobly did he come out of the contest: indomitable will and perseverance prevailed; industry and application were amply rewarded; and, envied by none, he rose to that prominent position in society which he has worthily maintained for so many years. The multifarious offices, heaped upon him by his fellow citizens, the respect so freely conceded to him through life, the deep sorrow felt at his death and the tender affection that attaches to his memory, show how strong was the tie that bound him to his friends.
The services at the grave were in charge of Revere Lodge, of which Bro. Thompson was a Charter member, having assisted at its formation in 1855. He was made an honorary member in 1872. The services were conducted in an impressive manner by the chaplain, Rev. Charles H. Titus.
COUNCIL OF DELIBERATION, 1874
From Proceedings of the Massachusetts Council of Deliberation, 1874, Page 38:
ILL.·. BRO.·. NEWELL ALDRICH THOMPSON' 33°
In the death of our beloved Brother, which took place on the 10th of April, 1874, after a short illness, our Order mourns the loss of one of its most esteemed and honored Members; and the whole community joins with us in regret at the departure of a citizen whose life had been, in no ordinary degree, blameless and useful.
Newell Aldrich Thompson was born on the 2d of December, 1808, in Uxbridge, Mass. He came of good New-England stock, his paternal ancestor having been one of the earliest settlers of the Massachusetts Colony. Thrown, at an early age, upon his own exertions for a livelihood, young Thompson turned his attention to whatever useful employment came nearest to hand; and changing residence with his father, a millwright by profession, we find him engaged as a "bobbin-boy" in various manufacturing towns, but, during the last five years of his minority, employed as a salesman in a large country-store in Dover, N. H.
Determined to push his fortunes in a larger field, he came to Boston in 1829, and, in default of more profitable employment, entered the law office of the late Judge Hurd, as a copyist. So favorable an impression did he make upon his employer, that he was advised to enter upon the study of the law, and was offered the free use of the books of the office. He remained here seven years, and managed, by writing and by studying after office hours, to support himself, and at the same time acquire a fair legal education. No better proof can be given of the confidence reposed in Mr. Thompson by his patron, than that he was constituted Mr. Hurd's attorney for the transaction of his private business, and was made trustee of his large estate.
In 1836, Brother Thompson associated himself with Francis J. Oliver as assistant agent of a London banking house, having an office on State Street, and held the position until 1839, when the agency was withdrawn from Boston. He again resumed the law, and was employed in the management of several trust estates; filling, at the same time, the office of Secretary of the Whig Republican Association, and Superintendent of the Whig headquarters during the exciting presidential election of 1840. He commenced, in 1841, as auctioneer and commission merchant, a business which he followed until the time of his death. He had, from time to time, business partners; but his name has for many years been widely and honorably known as the head of the firm, which, under his energetic management, made the annual results of its sales of real estate reach to millions of dollars.
But it was not alone as a business man that our departed Brother took an active part in the duties of life; be distinguished himself in many and various fields of usefulness; and during his forty-five years of residence in Boston, few men have held so large a. number of official positions, civil, military and charitable. In all these stations, he discharged his duties in a manner to win universal respect. For six years he was a member of the School Committee of Boston; and at different periods he rendered eight years' service in the Common Council. During this long term of municipal service, he was chairman of many important committees; and his reports were noted for the thoroughness and ability with which he handled all subjects committed to his charge. In 1852, he was elected a member of the House of Representatives, to which he was re-elected in the two following years; and was appointed chairman, on the part of the House, of the special committee on the amendment of the Constitution of the State. Later, commencing in 1866, he served three more years in the House, acting as chairman of the Committee on Military Affairs, under whose supervision the general militia law was drafted, which has stood until within a recent period. In 1867, Col. Thompson was elected a member of the Executive Council of the State, where he was also appointed chairman of the Committee on Military affairs.
His military career commenced in 1831, when he was a member of the Independent Corps of Cadets. In 1835, he was commissioned as Ensign of the Boston City Guards; in May, 1838, he became Adjutant of the Battalion of Light Infantry, receiving his commission from Col. Everett; he was appointed Aide-de-Camp to Gen. Winthrop in 1838, and Brigade Major and Inspector in 1839; he was elected Lieutenant Colonel of First Regiment of Light Infantry, First Brigade, First Division, in 1840; and in 1841 was commissioned by Gov. Davis as Brigade Major. In 1843, he was commissioned as Captain of the Boston City Guard, an office which he held for several years; and it was the military position in which he took the greatest pride. In 1854, he accepted a temporary appointment on the staff of Gen. B. F. Edmands; and was appointed on the personal staff of Gov. Bums, in 1860. He was twice Adjutant of the Ancient and Honorable Artillery Company, once Lieutenant; and he commanded the Corps in 1843. In May, 1867, he was appointed by the Secretary of War as a member of the Board of Visitors to West Point. His talent for organizing and commanding large bodies of men was recognized in his selection by the City to act as Chief Marshal of the procession at the time of the dedication of the Franklin Statue; and he rendered frequent service on similar occasions.
As a member of the military organization of Massachusetts, Col. Thompson was noted for his knowledge of the details of tactics and military law. His opinions on military questions were always regarded with high respect; and few men in the Commonwealth have done so much, both as an officer and a legislator, to bring the militia to its present efficiency. When the rebellion broke out, in 1861, Col. Thompson immediately repaired to the State House, and tendered his services to Gov. Andrew, to aid in equipping and sending off the troops; and the Governor gladly availed himself of the assistance thus thoughtfully proffered. During the whole of the rebellion, he was active and liberal in helping recruit the volunteer army, and providing for the comfort of the men and their families.
Brother Thompson had also taken great interest in Odd Fellowship, had served as Deputy Grand Sire of that Order, and at his death was the Senior Past Grand Master of the Order in Massachusetts.
Brother Thompson's interest in the concerns of masonry commenced in 1845. He was made a Master Mason in Columbian Lodge, Boston, Feb. 25, of that year; was a Charter Member of Revere Lodge (chartered March 1, 1867), and was made an Honorary Member of that Lodge in 1872.
He was exalted to the degree of Royal Arch Mason in St. Paul's Chapter, May 23, 1845, and was dubbed a Knight Templar in Boston Encampment, May 23, 1845. He was Commander-in-Chief of Boston Consistory of S.'. Princes of the R.'. S.'., 32°, in 1863, and did good work as District Deputy Grand Master of the twelfth Masonic District, from Dec. 29, 1863, to Dec. 27, 1866. The next year, he served the Grand Lodge as Deputy Grand Master. He was created a Sov. Gr. Inspector General, 33°, and Honorary Member of the Supreme Council, May 21, 1862.
From this rapid sketch of the life of our esteemed Brother, it is apparent that his was a career of no ordinary activity and usefulness. Few men would have the courage to attempt so much; and fewer still could have performed such a varied round of duties so well. He was indebted, for his success in life, to a quick and trained intelligence, systematic habits of work, and a thorough and conscientious devotion to whateVer task he might have in hand. In his personal and social relations, he has left behind, in the hearts of those who knew him, a host of pleasant and tender recollections. Always kindly and genial, with much of the courtesy of the olden time in his manner, he attracted all who came near him; and the circle of his friends was almost as wide as that of his acquaintance. Prompt in all good works, generous and public-spirited, we shall miss him in a thousand ways; and the suddenness of his departure gives a keener point to our regret. But he has gone to reap the reward of a well-spent life; and his family and friends will cherish with abiding satisfaction the remembrance of his manly virtues, his kindly deeds, and of that long and honorable career, brought unspotted to its close.
Respectfully submitted,

WYZEMAN MARSHALL, 33°,
NATHANIEL B. SHURTLEFF, 33°,
JAMES H. FREELAND, 33°,
Committee.
---