MAGLNDavison
From MasonicGenealogy
NORMAN B. DAVISON 1913-2004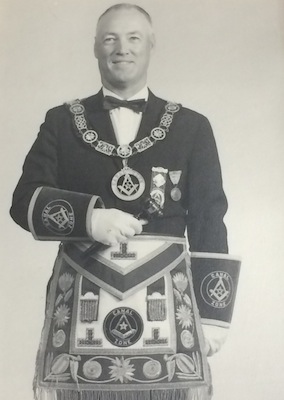 MM 1947, WM 1955, Sojourners
District Grand Master (Canal Zone) 1966-1968
NOTES
From The New Age, March 1969, Page 33:
Norman B. Davison, 33° Appointed Deputy
Sovereign Grand Commander Luther A. Smith 33° has appointed Ill. Bro. Norman B. Davison, 33°, of Balboa, as Deputy of the Supreme Council in the Orient of the Canal Zone, effective January 1, 1969, to succeed Ill. Bro. Earl Oscar Dailey, 33°, who resigned.
Deputy Davison was born in Malden, Massachusetts, on July 28, 1913. He is a graduate of Harvard College, magna cum laude in political science; LaSalle Extension University in accounting, and he also attended American University in public administration.
A member of the Panama Canal Chapter, Federal Government Accountants Association, and associate member of the American Accounting Association, Brother Davison is also a member of Balboa Union Church at Balboa, and presently is serving as treasurer, General Council, Union Church of the Canal Zone. He is married to the former R. Alvera Lord, and they have two children, Capt. Barry L. and Mrs. Frank C. Townsend.
Illustrious Davison is a Past Master of Sojourners Lodge, Cristobal, Canal Zone, and District Grand Master since 1966. He holds the Joseph Warren Distinguished Service Medal and Henry Price Medal, Grand Lodge of Massachusetts.
A member of the Balboa Scottish Rite Bodies, he had the distinction of serving as Venerable Master of Panama Canal Lodge and Master of Kadosh, Panama Canal Consistory. He was honored with the rank and decoration of Knight Commander of the Court of Honour in 1959 and Coroneted an Inspector General Honorary of the Thirty-third Degree in 1966. In the York Rite, his affiliations include: Cristobal Chapter No. 2 (R. A. M.), High Priest 1955; Canal Zone Council No. 1 (R. & S. M.), Illustrious Master 1959; and Canal Zone Commandery No. 1 (K. T.), Eminent Commander 1965. Brother Davison is also a member of several allied organizations, including: San Lorenzo Conclave, Red Cross of Constantine, Sovereign 1966; Abou Saad Temple, A. A. O. N. M. S.; Panama Canal Court No. 18, Royal Order of Jesters; Honorary Member, Panama Chapter No. 35, National Sojourners; Charter President, Isthmian Square and Compass Foundation, and Active Member at Large, International Supreme Council, Order of DeMolay (Executive Officer in the Canal Zone, 1958-1965).
OBITUARY
Provided by a family member in June 2019.
Norman B. Davison, 90, of Lehigh Acres, Florida, passed away suddenly in his home on May 23, 2004. Norman was born July 28, 1913, in Malden, MA and attended public schools at Melrose, MA. He was a Phi Beta Kappa graduate of Harvard University, Class of 1935, magna cum laude, where he earned a degree in Political Science, International Law & Foreign Relations. He worked for Montgomery Ward prior to arriving at the Panama Canal Zone in August 1942. There he worked in the supply division, initially on the Atlantic side and later as marketing superintendent at Balboa, a position he held for 13 years prior to retiring in 1973 with 31 years service.
Norman was an active 33-degree Mason, and was Past District Grand Master of the Panama Canal Zone. He was also a member of the Lehigh Acres Lodge No. 344, F. and A.M., the York Rite bodies and the Scottish Rite Bodies of Ft. Myers. He held the Joseph Warren Medal, Henry Prince Medal, and the 50-year Medal from the Grand Lodge of Massachusetts. He also was the choir director of the Araba Temple Chanters, which participated in numerous Shrine parades throughout Florida.
Norman is survived by his lovely wife of 67 years, R. Alvera "Vera", his brother, Robert Davison, a daughter, Marvel Davison Townsend of Gainesville, Fl, six grandchildren; Edward, Mike, and Matthew Davison, Jennifer Davison Parker, Joyce Townsend Siegele, and Chad Townsend;and four great-grandchildren; Emily, Ashley, and Caroline Davison, and Erik Siegele.
His son, Barry L. Davison, preceded him in death. Vera is currently living with Frank and Marvel Townsend, Gainesville, FL.
---