MAGLJKBaker
From MasonicGenealogy
JOSEPH KELLEY BAKER, JR. 1827-1886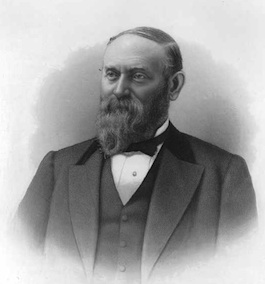 MEMORIAL
FROM PROCEEDINGS, 1886
From Proceedings, Page 1886-133.
"R.W. and Hon. Joseph Kelley Baker, of Dennis, died suddenly at his residence, on Saturday, November 13, 1886, aged fifty-nine years.
"He was born in the township of Dennis, October 27, 1827. In early manhood he became a mariner and afterward engaged in the fishing and mercantile business, in which he was successful. His public, like his business life, was an active and prosperous one. He represented his District in the Massachusetts Legislature during the years 1870-1871; was elected to the Senate fom the Cape District in 1872-1873. January 13, 1875, he was elected by the Legislature to fill the vacancy occasioned in the Governor's Council by the death of Hon. Alfred Macy, of Nantucket, and was elected by the people in 1875, '76, '77, and '78.
"He was Deputy Collector of Customs at Dennis Port from 1861 to 1871. In 1884 he was appointed on the Board of Harbor and Land Commissioners, which position he was holding at the time of his death. In town affairs he was active, having served as a member of the School Board, and in many other ways, to the entire satisfaction of his fellow-townsmen. In connection with banking interests we find his name enrolled for many years as a Director of the Cape Cod National Bank at Harwich, and for nearby two years as President thereof. At the time of his death he was President of the Cape Cod Five Cents Savings Bank of Harwich, which corporation he previously served for many years as a Trustee. He was called to act as Trustee and Director in other business and financial institutions, and was unremitting in his fidelity to their interests.
"His Masonic connections may be briefly stated as follows : — He received the degree of Master Mason in Fraternal Lodge, Hyannis, July 24, 1854, and was a Charter member of Mount Horeb Lodge, West Harwich, whose date of precedence is 1854. He served this new organization as Treasurer in 1865-1866; Senior Warden, 1854, '55, '79, '80; Master, 1856, '57, '58, '62, '63. In this Grand Lodge he is enrolled as District Deputy Grand Master from 1868 to 1871, inclusive (Fifteenth District), and Junior Grand Warden in 1873.
"At the Quarterly Communication held March 10, 1886, Brother Baker was elected a Trustee of the Masonic Education and Charity Trust, to fill the vacancy in said Board caused by the resignation of R.W. George P. Sanger. In all these official trusts, and, in fact, in every other committed in part or wholly to his care, we find a record of fidelity, ability and integrity. Throughout his manhood he was deeply interested in public matters, and active in the discharge of public duties. His influence extended not only throughout the County of Barnstable, but it was felt and appreciated wherever his interests, or those of his friends, called for its exercise. He may worthily be termed the representative man of the peninsula of Cape Cod; for, while many sons of that arm of our Commonwealth have prospered, become honored and noted away from their ancestral homes, Brother Baker won his laurels and became honored throughout the Commonwealth, ever retaining his ancestral home, and clinging with a never-ceasing reverence to the traditions, history and memories of the Cape.
"Influenced and strengthened by the teachings of our Order, he was kind-hearted and benevolent; the needy and suffering ever found in him a generous friend. His zeal in the discharge of obligations of every nature rendered him eminently worth of great trusts and responsibilities; and his appointment or election to many public and important positions indicated an appreciation of his noble character. He did faithfully his duty to. the town in which he lived, bringing energy and wisdom to the humblest responsibilities. His decease is a great loss to his fellow-citizens, for the town, the State, the Fraternity have been bereaved of a true patriot, a useful citizen and a faithful Brother."
FROM LIBERAL FREEMASON, 1886
From Liberal Freemason, Vol. X, No. 9, December 1886, Page 276:
Prepared and Read in the Grand R. A. Chapter of Massachusetts,
December 7th, 1886, by Alfred F. Chapman.
From their own cheerful firesides men can look out upon the gloom of a stormy and wintry night, and find joy in the thought that they are housed and warm in spite of the storm.
Slow and sombre processions may pass their doors, emblems of mourning may betoken grief, the pall of death may flap its gloomy warning and stricken friends pass bowed and sorrowing with their burden to the open grave, and yet men kindly affectioned one toward another, will notice the fact only and turn again to their own repose. Not so with us who remember a grand man and an eloquent life, brought to a sudden and lamented close.
Joseph K. Baker was born in Dennis, Massachusetts, on the 8th day of October, 1827, and there in the home of his parents he had his own, until when in early life he married and established for himself a home in Dennisport, which he conducted with proverbial hospitality and brightened with cheerfulness unsurpassed.
From the time that he was nine years of age he was emphatically a working boy and man. Commencing on board his father's schooner he made fishing and trading trips, always gaining in knowledge as he grew in years, until when he became a man he had a practical knowledge of life and of men that always was of benefit to him, and grew to be more and. more serviceable to himself, his neighbors and to the people in his county and State, as time went by and his years and substance increased. Diligent and energetic in his own affairs, his influence in the community was potential and healthy. He obeyed the call of his district and represented it in the Legislature in 1870 and 1871, and in the Senate in 1872 and 1873. In 1875 he was warmly supported for Congress, but other interests prevailed and he was elected by the Legislature, January 13, 1875 to fill a vacancy in the Governor's Council, and was re-elected by the people in 1875, '76, '77 and '78, an unusually long term, and evidence of the high regard in which he was held by those who. knew him best. He was Deputy Collector of Customs at Dennisport from 1S61 to 1871, and in 1878 was urged as candidate for Lieut.-Governor.
A local notice referred to him as holding "many other positions of public and private trusts" and being "widely known as a business man." " He was for many years a Director of the Cape Cod National Bank of Harwich and from January, 1877 to October, 1879, was its President. At the time of his death he was President of the Cape Cod Five Cents Savings Bank of Harwich, of which he was also a Trustee for many years. He served both institutions with tact and fidelity." " He was President of the Citizens' Mutual Aid Association of West Harwich and Dennisport, and had been prominently identified with its interests since its organization." He had also been on the Hoard of Land and Harbor Commissioners since 1884.
The local testimony is that "he served the town as School Committee and in many other ways, to the entire satisfaction of his fellow townsmen." He was called to act as Trustee and Director in many business and financial institutions, and "never failed of his duty and faithfulness to his trusts."
"Being a man of public instincts, benevolence, and kind-heartedness, he' was never found wanting in the prompt, liberal and willing discharge of all social obligations and duties toward the poor, his associates, his friends, public charities or the church. Thus laborious, faithful, tenderhearted, well known and prosperous, we feel justified in saying that the community in which he lived has lost one of its must useful and prominent citizens, a leader and helper to every worthy cause; the various public trusts which rested upon him have lost an able and efficient servant. The whole life of the deceased was one of thorough business training, in which he lost no opportunity to compass all that was valuable in point of experience and close observation of character. Industry, energy and fidelity were prominent traits in his life, and with them he always coupled good sense, shrewdness. and sound judgement."
What the deceased was in domestic and public life, that he also was in Freemasonry. He received the degrees in Fraternal Lodge, Hyannis, in 1853, at once entered into the work, and served the Lodge in many ways until 1855, when he dimitted and became a charter member of Mt. Horeb Lodge in West Harwich, which he freely served, and successfully so, as Master. He was made a Royal Arch Mason in Orient Chapter in Hyannis, to which he gave efficient help, in and out of office, and notably, as High Priest. He was'one of the founders of Sylvester Baxter Chapter in West Harwich and here also he was High Priest and always a zealous member. He served the Grand Lodge as District Deputy Grand Master from 1868 to 1871, and was elected Senior Grand Warden in 1873, and in the same year was elected Grand King of the Grand Chapter. In 1861 he was created a Knight Templar in Boston Commandery, and ten years later received the degrees in the A. and A. S. Rite.
The enumeration of these facts, can give but a faint conception of his work in the interests of Freemasonry. Always on the alert in its behalf, he gave his presence and his influence on every possible occasion, to promote the prosperity of the local or Grand Masonic bodies. Prodigal of his time in this direction, he would take it from needed hours of rest, to meet with his brethren and encourage them by his council and his cheer. When the Grand Lodge established its "Masonic Educational and Charity Trust," Brother Baker was earnest in its support, and at the time of his death was one of the Trustees of that Fund. With the objects of this Fund he warmly sympathized and brought to it a ready and intelligent help.
His life which ended suddenly, on Saturday morning, November 13th, 1886, was well rounded and shapeful, in all things that may become men, few graves are opened with more sincere sorrow, and fewer still are filled with the remains of a truer, sweeter, or better manhood. Well may we pause to drop for him the sprig of acacia, to faintly speak the word of sorrow we more deeply feel, and to eulogize a companion departed, whose life was a benediction to his fellows, whose death has emphasized a sweet example.
---