MAGLJFranklin
From MasonicGenealogy
JAMES RICHARD FRANKLIN 1943-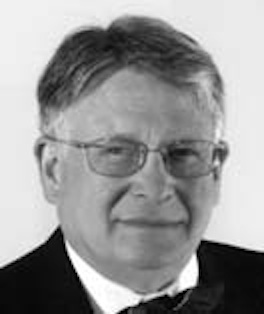 Deputy Grand Master, 1994
BIOGRAPHY
SPEECHES
FEAST OF ST. JOHN, DECEMBER 1993
From Proceedings, Page 1993-199:
Most Worshipful Grand Master, Most Worshipful Past Grand Masters, Distinguished Guests and Brethren:
What a thrill it is for me to stand before you as Deputy Grand Master. Grand Master, I am sure that I can speak for all of your appointed officers when I say that we are proud to serve you. Grand Lodge and your programs for the coming year. As we go about the duties assigned to us, we will all remain keenly aware of our responsibility to present to the world at large, the finest view of Masonry. I am sure that none of us will let you down.
Years ago, when I first came to this Feast-of Saint John, I had a seat way in the back of the room. While reaching and straining lo get a better glimpse of the Grand Master, my attention was drawn to one particular person in the front row. After a few years, I noticed that the same person had the same seat year after year, and I was getting no closer.Just who was this person? After a little bit of investigation, I found out that it was our stenographer, hard at work, in the best seat in the house, taking down every word.
Well, I was pleased; because it seemed to me, from my vantage point as a junior Lodge officer, that every word was surely worth recording. The Grand Master was witty, the Deputy Grand Master humble, and the main speaker, oooh, sooo interesting. But now that I am here, 1 am not quite as sure that every word was so important.
But, if it is not the words that are important, what really is? I believe that what is really important, is simply the fact that we are here as active participants in the cause of Masonry. We are here preparing to represent Masonry for another year. We are here getting ready to show the world that Masonry and its ideals, which are represented by its membership, is important, is relevant to the society in which we live, and can make a difference in the way men think and act.We, in fact, are Masonry, and how we represent it, will determine its future. If we do our job well, others will want to follow our lead. If we do our job well, others will want to join with us. But if we mess up, this wonderful fraternity, which is so much a part of all our lives, will not survive.
The speakers of the past were pretty good and their speeches were probably well worth recording, but what was really important was the day-to-day action of those speakers. When they left our Grand Lodge to return to their homes and to their own Lodges, they continued as active participants in spreading the Masonic message throughout the world. The fact that we are here today, is a testimonial to their dedication to Masonry. Their words taught us what Masonry was all about and made us proud to be workers in the cause of Masonry.
The Grand Master, in his address to Grand Lodge at the December Quarterly, introduced the slogan "You can do more in '94". My Brethren, let tonight represent the beginning of your opportunity to do more. I sincerely hope, that when you, like the speakers of the past, return to your homes and Lodges, will be prompted to act on behalf of Masonry in your Lodges, your communities, and particularly in your personal lives, to spread the word of Masonry to all who will listen.
---