MAGLJBolles
From MasonicGenealogy
JAMES A. BOLLES 1810-1894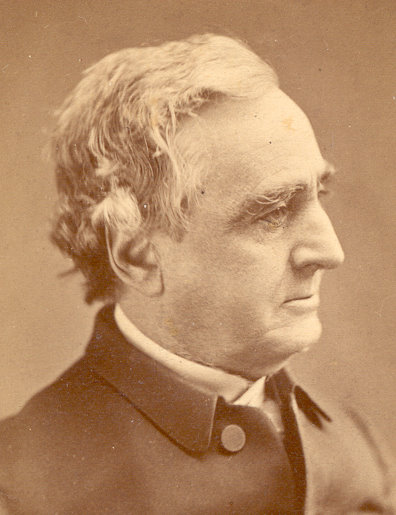 From the Bolles family gallery.
BIOGRAPHY
From Proceedings, Page 1873-377:
REV. JAMES A. BOLLES, D.D., BOSTON, Episcopalian, 1869, 1870.
Born in Norwich, Ct., May 2d, A.D. 1810; son of Ralph and Happy Branch Bolles. He was fitted for college in Plainfield Academy, Ct.; graduated at Trinity College, Hartford, Ct., A.D. 1830; studied theology for the ministry of the Prot. Epis. Church in the Gen. Theological Seminary of said church in New York City, and graduated A.D. 1833; was ordained deacon in Christ Church, Hartford, Ct., March 24, A.D. 1833, by Bishop Brownell; and spent his diaconate as an assistant to the Rev. Dr. Hawks, in St. Thomas Church, New York, and to the Rev. Dr. Whitehouse, in St. Luke's Church, Rochester, N. Y. Was admitted to the priesthood in St. James Church, Batavia, N. Y., of which parish he had been elected rector, by Bishop Onderdonk, Sept. 4, A.D, 1834. This was his first rectorship, which he held for nearly twenty years. In A.D. 1848 the Degree of Doctor of Divinity was conferred upon him by Hobart College. In A.D. 1854 he accepted the rectorship of Trinity Church, Cleveland, Ohio; and in A.D. 1859, that of the Church of the Advent, Boston, Mass., which he resigned at Easter, A.D. 1870.
Bro. Bolles writes, under a recent date, as follows : —
"It was during my rectorship of the Church of the Advent in Boston that I became a member of the Masonic Fraternity; an honor and a privilege which I had long coveted, especially from my having espoused the Masonic side of the controversy which was raging in Western New York, when I entered the ministry; nor is there anything which I more regret thank that I have not been able, from my multiplied engagements in the ministry, to seek an advance in its happy and sublime degrees. To the members of St. Andrew's Lodge in the City of Boston, who received me, and extended to me the right hand of the most brotherly friendship, I can never cease to be grateful; nor can I ever forget the kindness of the Most Worshipful Grand Master, William Sewall Gardner, by whom I was appointed Grand Chaplain. God bless them all! "
Brother Bolles' contributions to the press have been numerous, but mostly confined to church papers and periodicals. Among a certain class of churchmen the following publications by him are standard works : — The Episcopal Church Defended. The Church of the Future in America. What is not False Ritualism. Holy Matrimony. True Churchmanship. In the times of Anti-Masonic excitement he wrote not a little for the country papers in Western New York, to mitigate the fury of the oppression. He was entered in St. Andrew's Lodge, Boston, Oct. 10, 1867; passed Nov. 14, 1867; and raised Jan. 9, 1868.
OBITUARY
Id#: 0031053
Name: Bolles, Rev. James A.
Date: September 20, 1894
Source: Cemetery record
Notes:
Bolles- Entered into rest at his home, No. 508 Cedar ave., Wednesday morning, Rev. James A. Bolles, rector emeritus of Trinity Parish and senior cannon of Trinity Cathedral, in his eighty-fifth year. Holy communion Saturday 7:30 o'clock a. m.; burial office 10 o'clock a. m., at Trinity Cathedral.
1809 - 1894. Lakeview Cemetery Cleveland, Ohio.
Courtesy Bob Bolles, family genealogist.
---