MAGLJBamber
From MasonicGenealogy
JOHN B. BAMBER 1951-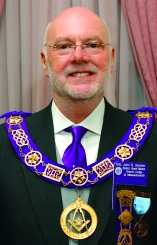 District Grand Master (Panama), 2008-2013
BIOGRAPHY
FROM TROWEL, SPRING 2008
From TROWEL, Spring 2008, Page 3:
Fairplay, The International Shipping Weekly, calls Rt. Wor. John B. Bamber, the District Grand Master for the Panama Canal District, a "tropicalized Brit, a true treasure…" For 36 of his 57 years, the "Brit" has lived in Panama working as a ships agent, in offices just around the corner from the ancient building that houses Sojourner's Lodge where he has served as Worshipful Master at least once in each of the last four decades (not bad for a brother who has been a Mason for 34 years), at least in part due to the decline of English-speaking Masonry on the Atlantic side of Panama (Cristobal) since the United States gave up control of the Panama Canal and many Americans returned home. When he didn't act as Master, he served as Senior Warden, while also becoming active in the District Grand Lodge.
Bro. Bamber says the lodge building is "dear to my heart," and he takes his special guests to the lodge's rooftop Sky Room.
He is married to Natalia, who is in charge of the financial side of Shipsagent Group, a logistics company where he is a partner and serves as president and general manager. He has two sons, Andrew and James.
The District Grand Master lives in Vista Marina, Avenida Balboa, Panama and spends his time in Masonry, collecting nautical antiques, and relaxing at his beach house on the Pacific Coast of Panama.
FROM TROWEL, SPRING 2010
From TROWEL, Spring 2010, Page 3:
District Grand Master, Rt. Wor. Wor. John B. Bamber was installed in December 2007. Bro. Bamber was made a Mason in 1973 and was elected master of his lodge in December 1977. Bro. Bamber has served his lodge as Master several times, and previously served as the Deputy District Grand Master for Panama. He is a recipient of the Joseph Warren Distinguished Service Medal, and the Henry Price Medal.
Rt. Wor. Bro. Bamber, who has been a resident of Panama for nearly four decades, was born in Preston in the United Kingdom. ln 1965 he began his employment in the shipping industry and in 1971 his work took him to Panama. He has witnessed many changes in the Craft during his time in Panama; the transfer of the Canal to the Republic of Panama has changed the demographics of the region in general and membership of the various lodges in particular; despite all, though, Freemasonry still survives under his watchful care.
---