MAGLGRDewhurst
From MasonicGenealogy
GEORGE RICHARD DEWHURST 1907-1998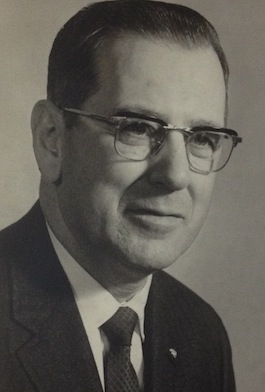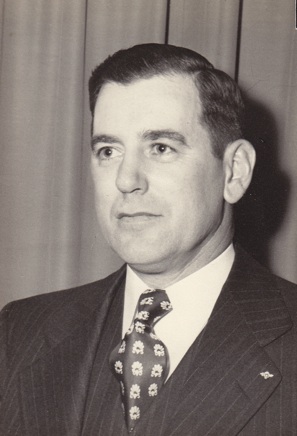 NOTES
FROM TROWEL, 1996
From TROWEL, Spring 1996, Page 8: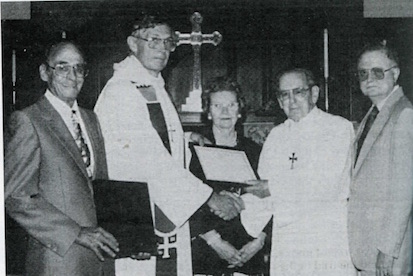 St. Andrew's Church in New Bedford honored lay reader George Dewhurst for his 70 years of service during its Founders' Day celebration Oct. 1.
Pictured: Russell Edge, Senior Warden, the Rev. Wallace Gober, Priest-in-Charge, Mr. Dewhurst's wife, Edith, Mr. Dewhurst and George Davis, Junior Warden.
New Bedford man cited for 70 years of service
by Julie Roderiques
George R. Dewhurst of St. Andrew's Church in New Bedford has been a lay reader since the age of 17. This may not seem out of the ordinary, except that Mr. Dewhurst turned 17 in 1925 and has served the Diocese of Massachusetts for 70 years.
"It's amazing to note that Mr. Dewhurst has used three versions of the Book of Common Prayer during his years of service in the Episcopal Church," said Russell Edge, Senior Warden of St. Andrew's Church.
More than 100 St. Andrew's parishioners gathered on Oct. 1 to pay tribute to Mr. Dewhurst upon his recent retirement as a lay reader. "It was appropriate that the parish was also celebrating its Founders' Day, since the first service in the parish was held 90 years ago in a small storefront in the north end of the city," Mr. Edge reported.
Mr. Dewhurst was named lay reader emeritus and was presented with letters of appreciation from Bishop Shaw and the clergy and parishes with which he served over the years.
It all began in 1925, Mr. Dewhurst recalled in an interview, when, as a member of the Young People's Fellowship at St. Andrew's Church, he was nominated to give a five-minute address during an evening fellowship service. Although he had a stutter that made public speaking difficult, he accepted the challenge, and after "much fervent prayer," he delivered his sermon titled "In Everything, Give Thanks," successfully. He hasn't stuttered since. That fall, Mr. Dewhurst became a lay reader.
He explained that at that time, lay readers often served as supply preachers. "I was always delighted to fill in because I loved to preach," Mr. Dewhurst said. In 1943, he took the pulpit at St. Andrew's Church because the rector was out with pneumonia. Because the parish enjoyed Mr. Dewhurst's preaching so much or so the story goes the wardens refused the diocese's efforts to supply a replacement. Mr. Dewhurst stayed for 15 weeks until the rector had recovered. He was soon placed under the direction of Archdeacon Herbert Johnson to serve as a lay missioner.
Mr. Dewhurst explained that lay missioners at that time worked in mission congregations, developing educational programs, parishioner involvement and finances until they were ready to call a full-time rector. During the period of 1943 to 1958, Mr. Dewhurst served St. Mark's Church in North Easton, the Church of the Good Shepherd in Fairhaven, Trinity Church in Wrentham, the Church of the Holy Nativity in Seekonk and the Church of Our Saviour in Somerset.
Mr. Dewhurst didn't feel the ordained ministry was right for him, though it had been recommended. "Although I loved preaching, I knew that preaching was not the whole job," he said.
He felt less well-suited for pastoral duties, which he was able to turn over to Archdeacon Johnson. He recall one exception, however, when a parishioner at the Church of Our Saviour in Somerset asked him to visit her dying mother. Mr. Dewhurst said he was "nervous; self-conscious," but the visit went well and he "came home on a cloud."
"If I did as much for her as she did for me. then it was a success," he said.
He resigned from his mission work in 1958 and returned as a lay reader and eucharistic minister lo his home parish in New Bedford.
When asked about his long ministry, Mr. Dewhurst cited the topic of a sermon he heard many years ago: "To whom much has been given, much will be required."
Reprinted from: "The Episcopal Times. " November 1995, published by The Diocese of Massachusetts. R. W. George R. Dewhurst is a Past Junior Grand Warden (1960), subsequently serving as Grand Marshal during the terms of M. W. Thomas Arnold Booth (1966-1968) and then as Senior Grand Warden in 1969. Bro. Dewhurst is one of a very small number of men who have served as both Senior and Junior Grand Wardens in Grand Lodge in its entire history of some 263 years.
MEMORIAL
From Proceedings, Page 1998-122:
Right Worshipful George Richard Dewhurst was born in New Bedford, Massachusetts, October 29, 1907. He was educated in New Bedford Public Schools, graduated from New Bedford High School, received his Bachelor of Philosophy Degree from Brown University in 1933 and furttrered his education with graduate work at Harvard University. He was the son of the late George and Mary E. (Geary) Dewhurst and was married to Edith M. (Rushworth) Dewhurstfor 62 years.
He was an accountant and worked for the U.S. Post Office Department until his retirement n 1972. He was a former Vestryman and Lay Reader for St. Andrew's Episcopal Church, where he was a member for 45 years. He held membership in the Brown Club of Rhode Island, Harvard Club of New Bedford, Wamsutta Club, Old Dartmouth Historical Society, New Bedford Port Society, and the Waterfront Historic Area League.
He was an active and loyal member of Freemasonry, holding many positions locally, and receiving many honors, including the Henry Price Medal, the DeMolay Legion of Honor in 1970, and 50 year Veteran's Medal in 1993. Brother Dewhurst received his degrees in Masonry from Eureka Lodge, A.F. & A.M. in 1943, serving as Master of his Lodge in 1950, and Treasurer from 195l-1992. He was the District Deputy Grand Master for the Fall River 30th Masonic District from 1955-1956. He affiliated with Abraham H. Howland Jr. Lodge n 1957, and served as Master from 1967-1968. His Grand Lodge of Massachusetts appointments included membership of the Education Committee from 1951-1966, serving as Chairman from 1963-1966; Junior Grand Warden in 1960; Grand Representative to the Grand Lodge of Norway in 1961; Grand Marshal in 1966-1968; and Senior Grand Warden in 1969.
His memberships included the Adoniram Royal Arch Chapter, New Bedford Council of Royal & Select Masters; Sutton Commandery #16, Knights Templar; the Scottish Rite Bodies of the Valleys of Southeastem Massachusetts, Fall River and Boston; the Massachusetts Consistory; Aleppo Temple, A.A.O.N.M.S.; the Shrine Club of Southeastern Massachusetts; and York Rite Bodies of New Bedford. He also was an honorary member of Abou Saad Shrine of Panama and the Past Masters Association of the 7th Masonic District in Massachusetts. He also was a member of the New Bedford Masonic Temple Association, serving as Clerk and Treasurer for many years; the Old Colony Masonic Past Masters Association, and president of the Past District Deputy Grand Masters Association of Massachusetts from 1966-1967 .
He is survived by his wife, Edith M. Dewhurst. A Masonic Funeral was conducted by Quittacus Lodge, and a Funeral Mass was held at St. Andrew's Episcopal Church in New Bedford.
May the Grand Architect of the Universe have George Richard Dewhurst in his keeping and share as we did the assistance, help and advice he gave to us.
Respectfully submitted,
R.W. Walter L. Craveiro
R.W. James T. Watson, Jr.
R.W. Gerald G. Delano, Sr. Chairman
Committee
---