MAGLFSchulenburg
From MasonicGenealogy
FREDERICK H. SCHULENBURG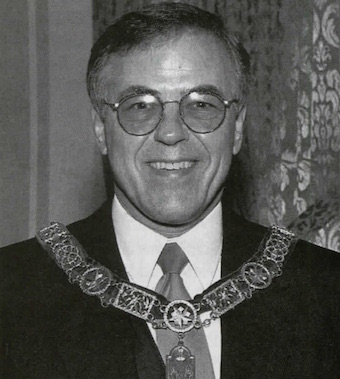 Junior Grand Warden, 1997
BIOGRAPHY
From TROWEL, Summer 1997, Page 5:
How can one fellow get so involved in Freemasonry as does our new Junior Grand Warden Fred Schulenberg? Because he likes what Freemasonry has done for him and others and, to be sure, he is a single man who can come and go whenever he pleases.
Fred is a Connecticut fellow who was once active in the Summerfield United Methodist Church of Bridgeport. He chairmanned the 100th anniversary, was a trustee and worked with ministerial committees. He is a creative man, owner and president of Museum Collections by Schulenberg, Inc. He was a charter member for implementing the first Hospice team for Connecticut's Fairfield County and active in Boy Scouting. He attended the University of Bridgeport and Bentley College, earning a B.S. in accounting. In Wellfleet, which he now calls home, he offers Schulenberg Associates of Accounting and Finance Services and he has kept up with his Methodist faith in Eastham United Methodist Church.
He was once divisional controller with Champion Papers International, employed with Time-Warner Inc. of New York and was vice president and finance officer for Fine Arts Division of New York Graphic Society, Ltd. He can offer an audience a pleasing talk about his creative crafts. Relocating from Connecticut to Cape Cod opened a new way of life when he was accepted into Adams Lodge of Wellfleet. He has served as Master of his 1865 chartered Lodge four times and two years as Secretary. He holds membership in Fraternal Lodge of Hyannis, St. Martin's Lodge of Chatham, is Treasurer of Winslow Lewis Lodge of Boston and was a charter member of the new Nauset Daylight Lodge of Orleans.
Totally committed to Adams Lodge and its building association, he is a member of the Cape Cod Past Masters Association, York Rite Bodies on Cape Cod and Scottish Rite Bodies of the Valleys of Southeastern Massachusetts and Boston and a degree worker in Massachusetts Consistory. He is a member of Aleppo Temple of the Shrine.
Brother Schulenberg was appointed Grand Steward in 1992, served as District Deputy Grand Master of the Provincetown 32nd in 1993-94 and is currently a member of the Grand Lodge Long Range Planning Committee.
---