MAGLDLucas
From MasonicGenealogy
DAVID R. LUCAS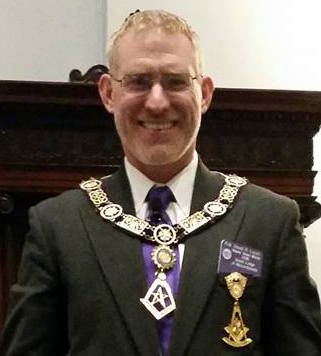 Deputy Grand Master, 2016
BIOGRAPHY
From Grand Lodge Press Release:
David Reed Lucas of Melrose was installed Deputy Grand Master of Masons for 2016. Lucas is a native of Melrose and a graduate of Melrose High School. He attended Syracuse University for his undergraduate studies in philosophy and psychology. He is also a graduate of Suffolk University Law School in Boston.
Lucas is the Owner and Principal at Lucas Law Group, LLC., a firm he founded in 2013. He previously spent 1997-2013 as Attorney and Partner with Nigro, Pettepit & Lucas, LLP in Wakefield. He has served as our General Counsel since 2013 and as Special Litigation Counsel for the City of Melrose since 2008.
He is a familiar face in the Massachusetts and North Shore legal community. He is a member of the Massachusetts Bar Association, the City Solicitor/Town Counsel Association, the Middlesex County Bar Association, and the First District Eastern Middlesex Bar Association, of which he is a past president. In addition, he previously served as a member of the Hearing Committee of the Massachusetts Board of Bar Overseers and is a gubernatorial-appointee as Public Administrator for Middlesex County, where he oversees the estates of the deceased with no heirs.
Lucas is very generous with his time and talents in his community. He serves the First United Methodist Church in Melrose as a member of the leadership team and as a member of the children's education team. He is a panel member of the Tri-City Community Action Program, Inc. (TRI-CAP) in Malden, and the coach of Malden Catholic High School's Mock Trial Team.
He is also a corporator of the Wakefield-based The Savings Bank, a director of Melrose Congregational Retirement Homes, Inc., and a trustee of the Melrose High School Permanent Scholarship Fund.
Brother Lucas began his Masonic career in 1998 when he joined Fidelity Lodge in Melrose. He served as the Worshipful Master of Fidelity Lodge from September of 2003 to September of 2004. He first served the Grand Lodge as a member of the Board of Trial Commissioners in 2005 (of which he became Chairman in 2014) and as a member of the Insurance Committee since 2008. He was appointed Junior Grand Deacon in 2006 and Grand Steward in 2008. He has also served the Grand Master as his Grand Representative to the Grand Lodge of British Columbia & Yukon since 2008 and as Grand Counsel since 2013.
Active in several Masonic organizations, Lucas is a 32° Mason in the Ancient Accepted Scottish Rite – Valley of Boston. He currently serves as Assistant Master of Ceremonies and Director of the Degrees for Massachusetts Consistory. He is a member of Waverly Royal Arch Chapter, Melrose Council of Royal & Select Master Masons, and St. Bernard's Commandery No. 12. He served as Eminent Commander of St. Bernard's Commandery in 2012-2013. He is also a member of the Aleppo Shrine Temple in Wilmington and the Massachusetts College of the Masonic Societas Rosicruciana in Civitabus Foederatis.
SPEECHES
FEAST OF ST. JOHN, DECEMBER 2015
From Proceedings, Page 2015-196:
Most Worshipful Grand Master, Most Worshipful Past Grand Masters, Guests, and my Brethren all, whom I feel very, very honored to be among this evening: Those of you who have known me for at least some time, probably know me to be a somewhat less than serious individual; certainly one who understands protocol and decorum, especially within these walls, but also one who finds a real value in making his fellow Masons a little happier, whenever possible – in fact, this is one of the lessons taught in Massachusetts Consistory's so-called Woodchoppers Degree. Let me therefore begin by apologizing to you: I have never been the type of person who expects anyone to be moved by his words. I certainly do not expect that anyone here this evening will leave Grand Lodge so inspired, so changed, indeed so profoundly transcended by the Deputy Grand Master's speech, that he will rush home after dinner to his dwelling place, pull together a perfect makeshift altar, kneel before it and cry aloud, "Thank God – I have finally received the furthest light!"
I do not expect that to happen. But perhaps I can make you a little happier. Perhaps I can provide some personal perspective on how we can all improve ourselves in Masonry, even in the smallest sense. I would like to think that the Grand Master in his Wisdom saw something positive in me, when he decided to bestow such an honor upon me - even if I was his third choice.
So let's improve ourselves in Masonry, shall we? It seems that each year around this time we are all called upon to reflect on the current trials and tribulations of Massachusetts Masonry. We look at what has happened within our Fraternity in the past 12 months. We compare our experiences to those of other lodges in foreign jurisdictions. We wonder where we are heading and we lament the possible, no, make that the probable difficulties that will befall our beloved Fraternity; and inevitably we begin to discuss and debate … the numbers.
As Freemasons we are obsessed with numbers: 3, 5, 7, 9; 31 Districts, 149 lodge buildings, 223 lodges, 28,000 members - and dropping, that is true. The Grand Master, I believe, will make membership a focus of his final term. Let me then address our nature, rather than our number.
As we all know, when it comes to potential officers for our Lodges, both elected and appointed, our ponds are somewhat shrinking. That is no secret. How many of you men here tonight are Past-Masters, graciously serving again in the East or serving in line? (I'm speaking to all of you in the Paul Revere room also!) On behalf of Grand Lodge, let me first thank you very much for your devotion to your Lodge and your generosity. I want to address you all specifically, for a minute. I told this same story to the District Deputy Grand Masters a month ago.
The best professor I ever had in school was a philosophy professor at Syracuse named Laurence Thomas. I have a whole host of reasons why I enjoyed his classes, too many to describe tonight, but one memorable characteristic of his was this: whenever he closed his class, or left the room, or passed by you on campus, he never said, "goodbye", "good luck on the exam", "congratulations on graduating" or any other traditional departing statement. He always said, "Be Brilliant." I loved that – it was unique. Stronger than "good luck", it was a personal challenge – a personal challenge to succeed at the highest level, with true confidence in our abilities, that we could, in fact, be brilliant.
Worshipful Brethren: your willingness to serve your Lodges again, and your zeal are truly laudable. But I ask you, in fact, I challenge you: do not simply be a place-holder this year. Be Brilliant. Be brilliant in everything that you do as an officer – your ritual, your cameraderie, and certainly your dedication. When you agreed to serve for this year, did you tell your nominating committee, "Well, it will be a sacrifice, but yes, I'll serve again"? Or, did you say something like this: "Yes, I'll serve, but I'm not going on any DD visits and I'm not going to Lodges of Instruction. Oh and I can't take off of work for any Grand Lodge Quarterlies, either." Remember - the newer members of your Lodge are looking at you at all times, as the example of what a Lodge officer should be. Don't teach them to be a place-holder. Teach them to be Brilliant!
If you are the Junior Warden, do you rush to Lodge from work each month to pick up the take-out meal for the Lodge's dinner meeting, your lateness preventing the Master from opening his Lodge in due time? Or, have you made arrangements days ahead to be there on time, or to assign this task to a Steward; or have you already arranged a caterer or a volunteer chef for the evening? And if you are a Steward, do you skip out on rehearsals and Lodges of Instruction, and miss the opening of your Lodge each month? Or, do you arrive on time, practice your floor work, see the tables properly clothed, and otherwise call upon the Master and Wardens to assist their needs? Don't be a place-holder, be brilliant – in everything that you do.
I hope I'm not misconstrued here tonight. This isn't meant to be a chastisement or a reprimand. I certainly do not want to add to the stress of serving as a Lodge officer and leader; not at all. It's a challenge. And it's a challenge with my confidence in your abilities. If I weren't confident, I'd probably say, "Good luck." Or maybe, "Congratulations."
Now let's take the focus off of the Past Masters for a moment, and talk about your Lodge as a whole. Is your Lodge having a place-holder year, so to speak, or are you making it a unique place where your members have not just an obligation, but a specific desire to attend? Over the last ten years or so I have seen a real push by Grand Lodge, and by the Blue Lodges, to try and cater toward "younger" members. And in our world, of course, "younger" usually means somewhere under the age of 70. (And by the way, on that note, congratulations to our Grand Wardens on both being included as younger members!) Seriously, we've made a push to try and cater to the 20-something and 30-something crowd; and I think that's generally a decent idea. As one small example, the vast majority of our communications are electronic now. It may have taken us until 2008 or 2009 to enter the 21st century, but that's okay. We are also reaching out to our members and our prospective members by social media. I will say that I know more about what your Lodges and Districts are doing by looking at Facebook, than from any other source. I think that's great.
Speaking of Facebook, I don't know how many of you ever saw the movie Social Network, about the creation of Facebook, but there's a great fleeting moment in that movie where Mark Zuckerberg and Eduardo Saverin, Facebook's founders, are meeting with Napster founder Sean Parker for the first time, as a potential investor and business strategist. Saverin asks Parker if he thinks it is too soon to start selling ads on Facebook. Parker's quick response is interesting. He says, "hmmmm. The Facebook is cool, that's what it's got going for it. Ads aren't cool."
It is a juvenile response to a question about business finance, certainly; but in fact, it's a somewhat profound answer. Facebook's early success, could be measured by how "cool" it was. Customers joined it, not for its social networking utility, not for its marketing capabilities, but because, "it's cool". So, if we want to cater to a younger generation, Brethren, and if we want to succeed with that cohort, then I ask you: Is your Lodge "cool"? What are you doing with your members, that's cool? I got an email from my Lodge Master about a month ago, polling the officers on their thoughts about having an event at a club called Trapology Boston, which is, apparently, an adventure where your team gets locked in a room, literally, like a jail cell, and must solve puzzles as a team to understand how they got there and how to escape. Maybe you have heard of this, I had not; but my initial thought when I read his email was, "Wow, that's a pretty cool idea!" Now, others may disagree, I'm sure. It is after all a matter of opinion. I have to assume that the epistemological measure of "coolness" is quite subjective and even between two individuals in one particular space and time, one Lodge event could rank anywhere from ridiculously boring, to an Arthur Fonzarelli level. But the point is this: this particular Master put some thought into it. "What kinds of new, fun events would my Lodge officers enjoy trying?"
Brethren: at your monthly meeting, does your Lodge open, have a business meeting, go downstairs for a sub-par dinner, and then disperse for the evening; or do you open your meeting and then head out to Trapology Boston for a teambuilding adventure? What kinds of cool things are you doing for your new members? Now, I've given only one example of a cool idea, and a somewhat extreme one, I realize, but I will tell you this: I think that the task of making our Lodges more attractive to our members is much simpler than that.
Several months ago I polled some more experienced Masons in Massachusetts – some much older than I am, some close to my age, all of them very distinguished officers and past officers of Grand Lodge, and I asked them what made their Lodges cool when they joined; what kinds of "cool" things did their Lodges do back in the 1960's, 70's and 80's, that caused them to want to stay, attend monthly meetings and become more involved. I will tell you that from every member who spoke with me, there was one common denominator in what was cool: they all said, that their wives, or significant others, were included on a regular basis. It's a little surprising at first, but really not so surprising at all. As Masons, do we not strive to become better men? Do we not strive to become better husbands? Better fathers? Why are we not spending more time with each other with our wives and our families? We say that we are trying to cater to 30-somethings, we post our activities on Facebook, we communicate with our new Brethren electronically because that is how they are used to communicating.
Well guess what? They also have wives, significant others, and some have young children. And if they are truly men who are worthy of our Fraternity and worthy of sitting next to you in your Lodges, I'm willing to bet that they are also very good husbands and fathers, and love spending time with their families. I know that I do. (And by the way, if you see my wife this year, please be sure to let her know that I slipped in that good word about her!)
This, I believe, is just one way of keeping our Lodges strong, Brethren. It's a very simple measure of success – how cool are our Lodges, and how cool can we make them? And Brethren: I want you to leave tonight knowing this: if you truly want to improve the attractiveness of your Lodge, you have some excellent resources at your fingertips here in Grand Lodge. We have many men available to help you improve your own Lodge. For me, specifically, my next year is dedicated toward making Massachusetts Masonry better, stronger, and yes - more fun.
But the purpose of Grand Lodge, Brethren, is not to direct you on how to do this. Our purpose is to serve as your resource. The effort and the desire must first come from you as the officers and leaders of your Lodges. This is not something that you can leave until next month's meeting, or next year, or whenever. This is something for you to tackle this week, in 2016. Do it! And be excited to do it! Don't feel as though this is a burden which must be overcome, or else your Lodge will implode. Look at this as a fun, worthy challenge.
Brethren, there is an unwritten rule that a good speech should include a poignant quote from an ancient philosopher, or leader or famous person. I do not necessarily agree with that unwritten rule, but let me appease those who do. A very long time ago, there lived an incredibly wise and old man. I do not believe he was a Mason, unfortunately, although ironically he did hold the rank of "Master".
One of the many wise things he said was, "Do, or do not. There is no try."
Don't try to improve your Lodges, Brethren, do it. I, personally, have full confidence in what you can do and the level at which you can do it. I want to thank each of you for the efforts you are going to make, and for the services you are going to perform for Masonry in 2016; and tonight, my Brothers, I challenge each of you, and I welcome you, to be brilliant.
Thank you, Grand Master, for this opportunity.
---