MAGLBTyler
From MasonicGenealogy
BRENTON E. TYLER, JR. 1927-1996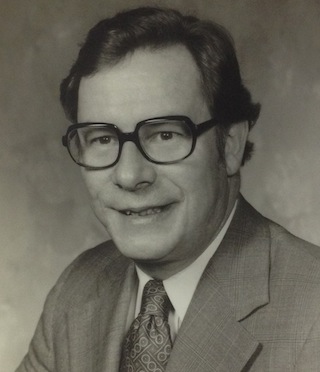 Junior Grand Deacon, 1969
Grand Marshal, 1975-1977
Senior Grand Warden, 1978
MEMORIAL
PROCEEDINGS, JUNE 1996
From Proceedings, Page 1996-155:
Right Worshipful Brenton Eugene Tyler, Jr. was born October 29, 1927, in Waltham, Massachusetts, died in Waltham, Massachusetts, April 6, 1996, the son of Brenton E. and Ethel A. (Templar) Tyler. He attended Waltham High School, Tufts University, Boston University, and Travelers Insurance School.
He served as a Petty Officer in the US Coast Guard in World War II. Brother Tyler is survived by his wife Margret J. (Frizzel) Tyler whom he married on April 9, 1949, two daughters, Susan E. Conrad and Karen H. Tyler. He was President of Brenton E. Tyler Insurance Agency in Waltham, Massachusetts, a member of the First Congregational Church in Waltham, a Past President of the Waltham Rotary Club, the Waltham Jaycees, and the Leland Home. He was a corporator of the Waltham Hospital and also of the Waltham Saving Bank.
R.W. Brother Tyler took his Masonic Degrees in Monitor Lodge in 1949. He started in line in 1957 and was Worshpful Master in 1964-1965. He was a Charter Member of The DeMolay Lodge in Boston and also of The Masters Lodge in Newtonville. He served as Master of The Masters Lodge 1991-1992. His Grand Lodge activity began in 1969 having been appointed Junior Grand Deacon by Most Worshipful Herbert H. Jaynes. He was the District Deputy Grand Master of the Waltham Fifth Masonic District in 1974 and the following year was appointed Grand Marshal during the term of Most Worshipful Stanley F. Maxwell, 1975-1977. Brother Tyler was elected Senior Grand Warden for the year 1978. He served as Chairman for the Grand Lodge Records Committee and also served the Grand Lodge on the Foreign Relations Committee. At the time of his death, Brother Tyler was the Grand Representative of the Grand Lodge of Rhode Island near the Grand Lodge of Massachusetts.
Brother Tyler's Capitular record is as follows: He was received in Triad Royal Arch Chapter in 1972, and affiliated with St. Andrews Royal Arch Chapter in 1981. Joined Adoniram Council in 1974 and was Knighted in St. Bernard Commandery #12 in 1973 and served as its Eminent Commander in 1991.
Brother Tyler's journey in the Scottish Rite began with admission into Boston Lafayette Lodge of Perfection, followed by entrance into Giles F. Yates Council Princes of Jerusalem and Mount Olivet Chapter of Rose Croix, and thence into Massachusetts Consistory in 1960. He served as Captain of the Guard in Boston Lafayette Lodge of Perfection in 1971 and was made a Master of Ceremonies of Massachusetts Consistory in 1976, rising through the ranks to serve as Commander-In-Chief 1982-1983-1984. He was coroneted an Honorary Inspector General 33° in Milwaukee, Wisconsin, in 1983. He was a Past Chairman of the Valley of Boston Advancement Program and was also Past President of the Scottish Rite Masonic Temple, Inc. Brother Tyler was amember of Aleppo Temple A.A.O.N.M.S., the Royal Order of Jesters, and Massachusetts College S.R.I.C.F.
Brother Tyler's love of life was apparent in all he did; from his model train layouts, his model planes, his love of boating and his uncanny knack to play any song he heard on the piano or organ. His courage to face the inevitable with the determination to enjoy each day that was left to the fullest was an inspiration to all who knew him.
At Brent's request the poem entitled "The Song of the River" was read at his Memorial Service. The last verse epitomizes his courage and attitude of life:
"The river ran its allotted span
'Till it reached the silent sea.
Then the water harked back to the mountaintop
To begin its course once more.
So we shall run the course begun
'Till we reach the silent shore,
Then revisit earth in a pure rebirth
From the heart of the virgin snow.
So don't ask why we live or die,
Or whither, or when, we go,
Or wonder about the mysteries
That only God may know."
Respectively submitted,
R.W. Robert E. Godbout, Jr.
R.W. Robert C. Patey
M.W. Albert T. Ames, Chairman
NEWSPAPER, APRIL 1996
From Boston Globe, 04/11/1996:
Brenton E. Tyler Jr. of Waltham, a retired insurance agency owner, died Saturday at Deaconess-Waltham Hospital after a brief illness. He was 68.
A graduate} of Waltham High School, he attended Tufts College for three years before entering the Coast Guard in March 1946. After his discharge, he resumed his education, earning a degree at Boston University.
Mr. Tyler was president of Brenton E. Tyler Insurance Agency in Waltham and was recently involved with the Auburn Insurance Agency, also in Waltham. He served as past president of the Waltham Rotary Club, Waltham Jaycees and Leland Home of Waltham. He was a Mason and served as district deputy grand master of the Waltham 5th Masonic District. He was a charter member of the Master's Lodge of Newtonville, the DeMolay Lodge of Boston and was active in the Triad Royal Arch Chapter of Newton. He also served in the Scottish Rite Bodies in the Valley of Boston and was past Commander bf St. Bernard Commandery No. 12 of Boston.
He is survived by his wife, Margaret "Peg" (Frizell) of Waltham; two daughters, Karen H. of Waltham and Susan E. Conrad of Wrentham; and several nieces and nephews.
A memorial service will be held today at 10 a.m. at the Museum of Our National Heritage, Lexington.
Burial will be in Mount Feake Cemetery, Waltham.
Arrangements by Rockwell Funeral Service, Inc.
---