MAGLBHuntoon
From MasonicGenealogy
BENJAMIN HUNTOON 1792-1864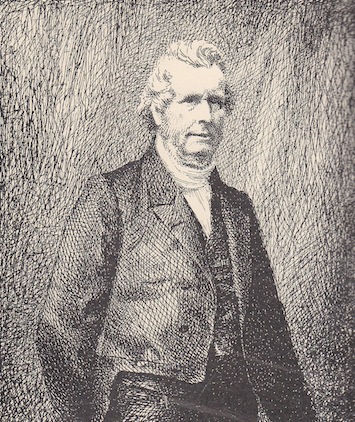 Junior Grand Warden, 1853
Grand Chaplain, 1827-1829, 1850-1851.
MEMORIAL
From Proceedings, 1864, Page VI-557:
"It having pleased the Almighty Disposer of events to remove from this life our R. W. and Revd. Bro. Benj. Huntoon of Canton, a Past Grand Warden of this Gd. Lodge, we desire to place upon our Records a tribute ofrespect, however imperfect it may be, to his memory.
"He received the degrees in St. John's Lodge in this City about the year 1819 and from that time until his death a term of more than forty years, was a much beloved and honored member of our Fraternity. His Masonic Addresses were numerous and several of them printed. On the 4th. of July 1825, he delivered the oration on the occasion of laying, in Masonic form, the Corner Stone of the Court House at Dedham in the County of Norfolk, and in the year 1842, he pronounced a Eulogy on the life and character of the Revd. Thaddeus Mason Harris, Past Grand Chaplain and Historiographer of the Grand Lodge. This last named duty he performed by invitation of the Grand Lodge, in their presence and in presence, also of the widow, family and friends of the deceased.
"In the course of his life he sustained, with honor to himself, many Masonic places of trust. In the years 1849 & 50, & 51, he presided over the Grand Chapter, and at an earlier period held the Office of District Deputy Grand. Master and Grand Chaplain in the G. Lodge and subsequently was elected Senior Grand Warden of that G. Lodge.
"In all the relations of life he has left an example worthy of imitation. His genial temper, affable manners, urbanity, and kindness of heart secured to him the respect and affection of a large circle of friends, who, while they mourn his loss, are consoled in the belief, that he is now among those of whom it is said Blessed are the dead who die in the Lord.
"Therefore Resolved. That in the death of R. W. Rev. Bro. Benj. Huntoon, the Grand Lodge of Mass. and the fraternity of Free Masons have sustained the loss of one dearly beloved and most deeply respected, and while we mourn his removal, we feel grateful that he was spared to us so long, and that we will ever cherish the memory of his virtues and exemplary character.
Resolved, That this Preamble and resolutions be entered on the Records of the G. Lodge and a copy of the same be communicated to his family.
THOs. TOLMAN,
Wm. D. COOLIDGE,
J. W. DADMUN.
BIOGRAPHY
From Proceedings, Page 1873-266; biographies of Grand Chaplains, assembled by John T. Heard:
REV. BENJAMIN HUNTOON was born in Salisbury, N. H., on the 28th day of November, 1792. He was the son of Benjamin and Mehitable (Page) Huntoon. His father was a farmer, and served for many years as selectman of the town with Judge Webster, the father of Daniel. He was, also, a deacon of the church ; and was much respected for his honesty and Christian worth. His grandfather, Benjamin, was a soldier; and, when about sixteen years of a«;e, enlisted as a private in the Seventh Massachusetts Regiment, then commanded by Col. Shubal Gorham. He took part in the expedition against Louisburg. He was out on scout duty several times before the breaking out of the revolution ; and when the news of the engagement on Lake George, Sept. 8, 1755, reached him, he again enlisted. He served under Gen. Stark at the battle of Bennington, 1777. His great-greatgrandfather was the "emigrant ancestor," Philip Huntoon (Hunton), who settled in Exeter, N. H., during the latter part of the seventeenth century. He was captured by the Indians at Kingston, July 22, 1710, and carried to Canada, and sold to the French. His oldest son was killed at the time. Philip purchased his freedom by erecting a saw-mill, and teaching the French how to saw lumber. This is said to have been the first saw-mill erected in Canada. He died May 10, 1752, "very ancient."
Rev. Benjamin Huntoon fitted for college at the academy in his native town, then under the preceptorship of Stephen H. Long, who was subsequently so well known as Commander of the Topographical Corps of the United j*>tates Army. During this time Mr. Huntoon boarded with the Rev. Thomas Worcester, who was one of the most, if not the most liberal thinker in theological matters of his day. His influence had great weight with Mr. Huntoon, and he probably derived from him those liberal sentiments that he so ably espoused in after life. He entered Dartmouth College in 1813, and graduated in 1817, having the ninth appointment in the graduating exercises, which was a dialogue with Benjamin Woodbury, his college chum and dearest friend, on the question, "Which of the learned professions is more favorable to literary eminence, Divinity or Law?" Mr. Huntoon taking the side of Divinity. After leaving college he returned to Salisbury, and taught the academy in which he had himself been taught. In 1819 he entered the Theological Seminary at Andover, and remained there until 1820, when he removed to Boston, and took charge of the Salem-street Academy. Here his leisure moments were devoted to pursuing his theological studies and completing the best preparation he could for the ministry, with the aid and advice of his warm friend, the late Henry Ware, Jr.
A committee from the First Congregational Parish in Canton waited upon the Rev. John Pierce, D.D., of Brookline, and desired that he would recommend to them some suitable person to settle over their society in the Gospel ministry. He, without hesitation, replied to them, "Benjamin Huntoon is the very man for the place; but be careful, for he will steal all your hearts away." He was ordained pastor of this church, Jan. 30, 1822, and for the next seven years he labored unceasingly, and soon became widely and favorably known as an earnest worker and an eloquent preacher.
A contemporary says, "that he delivered more occasional discourses than almost any other minister in the neighborhood." In the autumn of 1829 he was invited to preach at the dedication of a new Unitarian Church in Bangor, Maine, and the society there prevailed on him to resign his pastorate at Canton, and settle over them. He was installed June, 1830. In this then almost isolated position, demanding the most arduous labors, his health failed him, and in the fall of 1833 he asked and obtained a dismission from that church. He was advised by his physicians to seek a warmer climate. Accordingly he sailed for Savannah, Georgia. On this voyage his acquaintance with the Rev. Thaddeus Mason Harris, D.D., ripened into the warmest friendship. In a note to the eulogy which Mr. Huntoon delivered, by request of the Grand Lodge of Massachusetts, at the funeral services of Dr. Harris, he says (page 6), " The Rev. Dr. Harris was Moderator of the Boston Ministerial Association at the time I was approbated to preach, gave the text for the sermon of examination, and invited me to preach for him the next Sabbath.
"When I settled at Canton, Dr. Harris made the prayer of ordination. In the fall of 1833, Dr. Harris and lady were passengers with me in the same vessel to Charleston, S. C, whence we repaired to Savannah, and passed most of the winter in that delighful city in the pursuit of health, and spent much time together in visiting those places in its vicinity remarkable for their singular beauty and patriotic recollections. Here was commenced the collection of the materials for his 'Life of Oglethorpe.' In October, 1834, Dr. Harris preached my installation sermon at Milton, and the following week attended the funeral of my oldest son, who died the 18th of October, three days after my installation." Mr. Huntoon returned to the North with renewed health and accepted a call to settle over the First Congregational Church in Milton, and was installed Oct. 15, 1834. Here he remained four years; again the rigor of the climate compelled him to abandon his work, and as the American Unitarian Association were desirous of obtaining some able man to travel through the Western States and build up new churches, overtures were made by the secretary to Mr. Huntoon, which he accepted. During the winter of 1836-7 he preached at Chicago, then a small town, at Peoria and Tremont, in the State of Illinois, and in various other places. In 1837 he was settled over the Unitarian Society at Cincinnati, where he remained preaching with great acceptance for one year. In June, 1838, he went to Peoria, where he had occasionally preached before. Of his work here, a clergyman who visited Peoria within a few years says, "A number of years ago, the Rev. Mr. Huntoon had a flourishing society here, and I have no doubt that if he had seen his way clear to remain he would have had the largest and most influential church in the city. If he knew, as perhaps he does, with how much respect and affection his name is cherished here, it might help to assuage the sad memories that are associated in his mind with the place."
The writer here refers to the death of his first wife, after which sad event Mr. Huntoon remained at Peoria nine months. In August, 1840, he returned to the East, and was reinstated in the place of his first ministry,— A circumstance of which there are few parallels in ecclesiastical history, — and with renewed hope he was installed March 13, 1841. It was during his second ministry at Canton that those exciting questions arose, which prepared the way for the conflict of arms which subsequently took place. In the discussion of these questrons Mr. Huntoon was accustomed to follow out fearlessly his own convictions of right. He did not mingle in politics; but, as an apostle of the Prince of Peace, he felt it his duty not merely to rebuke, as his Divine Master did, the barbarism of past ages and the crimes of other nations, but to say something about the sins of that day and that people. Making the sacrifice to which such a course of conduct then often led, he relinquished the charge of the pulpit in Canton, and was installed pastor of the Second Congregational Church in Marblehead, in 1849. Here he soon became well known, and was active, as he had ever been, in the cause of this liberal faith, and zealous in the welfare of the public schools. During his residence here he experienced his first stroke of paralysis; and for a long time his life hung trembling as in a balance. While here he made many dear friends, and was always deeply interested in the welfare of Philanthropic Lodge. But the strength of his physical power was not equal to the work consequent upon such a large parish, and he resigned his pastorate. In 1856 Mr. Huntoon took charge of the parish at Winchendon; and, though the society was then feeble and struggling, laid, we trust, the foundation of its present prosperity. In April, 1859, he accepted a call from the society at Westborough ; but his health continuing to fail he was forced to relinquish his charge in February, 1860. In the fall of 1860, having a desire to return to the people over whom he had been twice settled, he went to Canton, refitted and repaired his old homestead. Here he had passed the happiest years of his life; here had been the first home of his early manhood, full of tender and hallowed associations and remembrances; here he had been first consecrated to the work of the ministry; here he had dedicated the church in which his people worshipped; here he had consecrated and helped to adorn and beautify the cemetery where the forms of many of his people and his household were laid, and here it was his wish to die; here he spent the declining years of his life, blessed with the love and fellowship of those who had known and revered him in his early years, a constant worshipper, and an occasional preacher in the church which had been erected through his exertions, — and here, amidst cherished remembrances, sustained by Christian faith and Christian hope, surrounded by loving friends, and watched with devoted and affectionate care, he continued in feeble and declining health until, on the morning of Tuesday, the 19th of April, 1864, he was again suddenly smitten with paralysis, and passing gently away entered on his rest and reward.
One of his parishioners, in an obituary notice published soon after his death, thus speaks of him : — "In the performance of his daily pastoral duties he was pre-eminently happy. Wherever he went he was welcome. How kind he was! What a large heart he had! How he overflowed with affectionate tenderness towards all he met! How his noble nature manifested itself in obliging deeds! How well he taught how neighbors, husbands, friends, should live! How successfully he personated the Christian graces! What perfect faith he had in the promises of the gospel! His presence and his daily walk were a benediction and a psalm. His name was a household word in every family. The traditions of his early labors were familiar to all. They whom he met at the sacrament of the Lord's Supper, — they whom he baptized in infancy, and whom he had watched over in the schools, and counselled in their riper years, — alike revered and loved him, and came to his funeral, weeping mourners. They who had been his early parishioners had long been gathered to their final rest, and he seemed to remain almost alone of the men of that day; and when he died in the hope of a glorious resurrection
"He fell like autumn fruit that mellowed long;
Or, like a clock worn out by eating time,
The wheels of weary life at last stood still."
A contemporary, a clergyman of the Unitarian denomination, long and well known in Norfolk County, says, "He deserves to be numbered with the honored and venerated leaders of our faith; and we trust that a fitting memoir of his life and character will be given to the public."
The following is an extract from the funeral sermon of Rev. James W. Thompson, D.D., of Jamaica Plain : — "Besides the usual experience of mortality appealing tenderly to individual hearts, and desolating your homes, you have recently lost from among you a venerable and venerated man, whose presence dignified and blessed your assembly; a man endeared to you, and especially to the older portions of you, by a long and faithful ministry of the gospel among you. I became acquainted with Mr. Huntoon more than thirty years ago, and though my acquaintance with him did not ripen into the intimacy I could have desired, in consequence of the wide divergence of the lines of our lives, yet I knew him well enough to know that he was a true man and a sincere Christian, illustrating in his conduct the faith he professed. What he was in private life, and in his connection with your families, you need not be informed. The eye that saw him blessed him. In my parish the elderly men and women cherish an enthusiastic remembrance of his public services, particularly of his prayers, so reverent, so tender, so earnest, bearing up to the throne of grace, on an affectionate heart, the wants and sorrows, the joys and thanksgivings, of the people; and those men and women gathered around him at his last visit, lamenting that he could no more speak to them from the pulpit. Such circumstances show the depth of the impression produced by his pulpit services, and the still deeper impression made by his character. It was felt that there was a man, behind the minister, and that there was a background of moral character, which inspired confidence and respect. When such men depart their goodness is left. It is diffused through the atmosphere we breathe, influencing, inspiring, stimulating us who survive, quickening us to good works.
"The sweet remembrance of the just
Shall flourish when he sleeps in dust."
Benjamin Huntoon, married (1) Sept. 4, 1820, Susan, daughter of Amos and Charlotte (True) Pettingill, by whom he had seven children; (2) July 2, 1841, Lydia Bowman, daughter of Edmund and Elizabeth (Vose) Baker, by whom he had one son; (3), July 30, 1846, Ann Payson, daughter of Elijah and Fanny (Sumner) Lewis. She is still living. Bro. Huntoon was proposed for the degrees in Masonry at St. John's St. John's Lodge, Boston, in 1821; and on the third day of April, the same year, he was raised to the sublime degree of Master Mason. Upon his removal to Canton, in 1822, he connected himself with Rising Star Lodge, and Mt. Zion Royal Arch Chapter, at Stoughton. He was exalted Mar. 11, 1825, and in the following December was elected High Priest. Twenty two years afterwards be was again High Priest. Of the former Body he was Master. His first appointment as Grand Chaplain was in 1827, and he held the office five years. In 1840 he was called to settle over his old parish in Canton, and at the same time we find him taking up his old connections with Masonry. In 1842 and 1843 he served as District Deputy Grand Master of the then Fifth Masonic District. On May 4, 1842, he delivered a eulogy, by special request of the Grand Lodge, upon the deaths of T. M. Harris, D.D. and Samuel Thaxter, M.D. On March 13, 1844, Winslow Lewis, M.D., having resigned the office of Corresponding Grand Secretary, Bro. Huntoon was appointed to fill the vacancy, and held the office during the years 1845, 1846, 1847, 1848. In 1853 he was Junior Grand Warden. He was a constant attendant upon the meetings of the Grand Lodge.
He was Grand High Priest of the Grand Royal Arch Chapter of this Commonwealth in 1849, 1850 and 1851. He also received the Council Degrees. When the Masons of Canton were anxious to organize Blue Hill Lodge, they waited upon him to obtain his signature to the petition for the warrant. This he signed, and it was his last Masonic act. When the petition for the Charter was ready he was deemed too feeble to be called upon.
For over forty years he was an enthusiastic member of the Fraternity. His position as a minister of the gospel was a peculiarly trying one during the long anti-Masonic contest. Many of his best parishioners refused to attend his church when he preached; and when he visited neighboring towns it was a common occurrence for two or three of the most prominent men in the society, who were anti-Masons, to leave their pews and walk out of church. On one occasion, when this method of showing their hostility to Masonry had been freely indulged in, and quite a number had left the sanctuary, a prominent "Jack" remarked, "I had always thought that Mr. Huntoon was a good preacher, but never knew before that he had apostolic powers." Upon being asked what he meant, he replied, "Because he has cast out many devils."
It has been related, upon good authority, that Bro. Huntoon remarked that "should the fanaticism of the day require me to renounce Masonry, or give up my position as a clergyman, I should unhesitatingly leave the ministry." He was the recipient of the most malignant and threatening letters; and after the delivery of any oration or discourse upon Masonry, letter after letter poured in upon him, begging him to leave the Fraternity, or, at least, not to give any public utterance to his opinions. Notwithstanding all this he was called upon oftener, perhaps, than were his contemporaries, to deliver orations and addresses. Travelling as he did throughout the South and West, and remaining for several months at a time in the cities of Savannah, Chicago, Cincinnati and St. Louis, he was constantly called upon to use his voice and pen, either in defence of Masonry, or in assisting in the formation of Lodges in distant States. On one occasion, while travelling in Illinois, being employed in building up new societies in the then far West, he was informed that, at a certain town not far distant, there was to be a new Lodge consecrated, and that the ceremonies would be interesting, as an address was to be delivered by a clergyman, who was considered a man of marked ability, and who was a prominent Mason. Bro. Huntoon accepted an invitation to be present, and found himself occupying a conspicuous position in front of the orator of the day. We may imagine his astonishment when the orator delivered, verbatim et literatim, an address which Bro. Huntoon had himself delivered at Stoughton, at the installation of the officers of Mt. Zion Chapter, a printed copy of which had found its way into the hands of the Illinois Brother, who thought that his plagiarism would, at such a distance, remain undiscovered.
He was always in great demand upon social occasions; and, at suitable times, was always ready to install officers, or deliver addresses upon Masonic subjects. The following discourses are known to have been published : —
Masonic Address at Walpole, 1823.
Sermon preached at South Dedham, 1825.
Oration at the laying in Masonic form of the Corner-stone of the Court-house at Dedham, July 4, 1825.
Sermon at Dedication of the Church at North Bridgewater, Aug. 9, 1826.
Address at the Installation of Mt. Zion R.A., Chapter, Stoughton, Dec. 15, 1828.
Sermon at Dedication of the Unitarian Church at Bangor, 1829.
Sermon at Installation of Rev. Wm. Farmer, Augusta, Me., 1831.
Sermon at Belgrade, Me., 1831.
Sermon at re-opening and Dedication of Church at Milton, Dec. 9, 1835.
Masonic Oration at Ottawa, Ill., 1839.
A Eulogy delivered by request of the Grand Lodge of Massachusetts, at the funeral services in commemoration of Rev. and R.W. Thaddeus Mason Harris, D.D., and R.W. Brother Samuel Thaxter, M.D., Boston, 1842.
An Address delivered on the occasion of the Centennial Celebration of Hiram Lodge, New Haven, 1850.
At the next communication of the Grand Lodge, subsequent to his death, the R.W. Brother Coolidge in his preamble to the resolutions, which were accepted, says "In all the relations of life he has left an example worthy of imitation. His genial temper, affable manners, urbanity, and kindness of heart, secured to him the respect and affection of a large circle of friends, who, while they mourn his loss, are consoled in the belief that he is now among those of whom it is said, — Blessed are the dead who die in the Lord Therefore : — Resolved, That in the death of R.W. Rev. Brother Benjamin Huntoon, the Grand Lodge of Massachusetts, and the Fraternity of Freemasons, have sustained the loss of one dearly beloved, and most deeply respected; and while we mourn his removal, we feel grateful that he was spared to us so long, and that we will ever cherish the memory of his virtues and exemplary character."
Worshipful D. T. V. Huntoon, to whom the compiler of these sketches is indebted for the foregoing notice of his father, writes : — "I have been unable to find the date when my father was Master of Rising Star Lodge. It must have been between 1822 and 1827. The date when his jewel was presented to him (1849) has, for many years, misled me as to the time when he was Master. It is a singular coincidence, and yet I am proud of it, that my father, and my grandfather (maternal), and myself, have all been Masters of Lodges in Norfolk County."
SPEECHES
FEAST OF ST. JOHN, JUNE 1849
An excerpt appears in the extended description of this event.
FREEMASONRY A RELIGIOUS INSTITUTION, SEPTEMBER 1849
From Moore's Freemason's Monthly, Vol. VIII, No. 10, September 1849, p. 341:
Freemasonry is a religious Institution. Its great central articles of faith aro belief in the fatherhood of God, and the brotherhood of man. Its first profession is trust in God. Its first lesson is reverence for his holy word, as the true light from Heaven shining above the brightness of the noonday sun upon the path of mortal duty and destiny. In the interpretation of that divine rule of faith and life, its liberality is as free as its boundaries are extensive, leav ing each individual to the illumination and guidance of his own judgment in the adoption and enjoyment of that form of faith and polity which best ap prove themselves to his reason and conscience. On this broad religious plat form men of every country, sect, opinion, and denomination, meet, recogni zing each other as equal children of God, and the objects of his paternal care and impartial love. It resolves the whole human species into one family religiously joined together by the golden chain of a common nature and common parentage; and religiously bound to aid, support and protect each other in the untramelled exercise of the inalienable righto, liberties and immunities of his divine inheritance. In thus calling Freemasonry a religious institution, I would not be understood to claim for it a divine origin, or as containing the laws and sanctions of a divine communication; but simply as an institution of man to aid, strengthen and prepare him for the better discharge of every religious service to God and man. The Bible is upon its altars, the ministers of religion are the chaplains of its assemblies, and all its symbols teach impressive lessons of duty and love, mortality and accountableness, and urge those to virtue, purity and piety, which address the universal conscience and find a sanction in the universal heart of humanity. In this claim I would not trench upon the high and holy prerogative of Christianity, in whose heavenly radiance all human light is dim, and be fore the broad blaze of whoso sun of righteousness the stars of earth fade away in obscurity. We are not of the number who exalt Freemasonry by the side of Christianity. In the unassuming language of ber great patron in the presence of Jesus the Christ, she says to Christianity, "I have need to be baptized of thee." The christian Mason is not taught or invited to give up his allegiance to Christ, or his Church, or his favorite mode of christian worship, faith, fellowship or communion. Neither is be taught, or inclined to regard his obligations to Freema sonry as paramount, as though her eminence were loftier than the hill of Zion and the pinnacle of God's holy temple. The ceremonies, the lectures, the sym bols, the names, the influence of our Order, all tend to prepare the way of the Lord and to exalt the name of Christ, before which, eventually, "every knee shall bend and every tongue confess that he is Lord, to the glory of God the Father."
---