Difference between revisions of "MAGLAStone"
From MasonicGenealogy
Line 1:
Line 1:
−

== ANDREW C. STONE 1839-1889 ==

+

== ANDREW C. STONE 1839-==

 
 
 

http://masonicgenealogy.com/MediaWiki/images/AndrewCStone_SGW1889.jpg

 

http://masonicgenealogy.com/MediaWiki/images/AndrewCStone_SGW1889.jpg
---
Revision as of 12:19, 20 June 2019
ANDREW C. STONE 1839-1905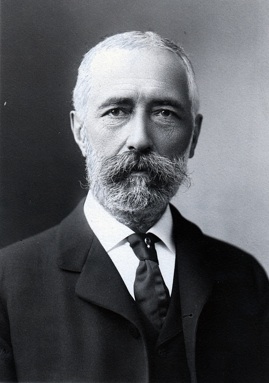 Senior Grand Warden, 1889
MEMORIAL
From Proceedings, Page 1905-13:
"BRETHREN: It becomes my sad duty to formally announce to you the sudden death of R.W. Andrew C. Stone, which occurred at his home in Lawrence, February 26. An honored and beloved Permanent Member of this Grand Lodge has laid aside the mortal and put on the immortal. While we are at labor he hns been called to his rest. The Father of Mercies, without whose knowledge not a sparrow falleth to the ground, and whose kind and protecting care is always over us, spared him the sufferings of a long and lingering illness and took him suddenly, but peacefully and not unprepared, from the midst of loving friends to his eternal home.
"In every relation of life R.W. Brother Stone was a model man; kind and courteous and considerate to all with whom he associated; ever ready to proffer the hand of aid and the voice of sympathy to the needy and disheartened of the Fraternity. He was endeared to us by the iutegrity of his character and the sincerity of his friendship. He served the Grand Lodge as Senior Grand Warden in 1889. His funeral was held on Wednesday, March 1, at Lawrence, in the Congregational Church, of which he was a member, and was largely attended, the Grand Lodge being represented by a large delegation of Permanent Members.
"The Craft has lost by the decease of Brother Stone one who was esteemed by his Brother Masons and beloved and honored by all who knew him. It is not wasted time to dwell upon the memory of departed friends or to mourn for their loss; we therefore desire to place on perpetual record our recognition of his manly life and of his many virtues. I have appointed, as a committee to prepare and present at this Communication a tribute of love to his memory, Right Worshipful Brothers Solon W. Stevens, J. Albert Blake and Dana J. Flanders.
R.W. Solon W. Stevens presented the following report, which was accepted by a rising vote and ordered to be spread upon the Records:
"We are such stuff
As dreams are made of; and our little life
Is rounded with a sleep."
- Tempest.
.
"In the prime of manhood, when dreams of practical results in compensation for earnest persistent toil may naturally displace the fascinating but superfluous fancies of youth, when strong mental powers refuse to heed the challenge of insidious physical disease, when the soul, impelled by instincts which are not of the earth earthy, reaches out in serious moments beyond and above the horizon of temporal affairs to the Heaven of the Infinite, and when there comes into the life of every thoughtful man a conviction, more or less absolute and intense, that by as much as by resoluteness of purpose we seek to grasp what fragments we can reach in the Universe of thought to apply them for the good of our fellowmen, by so much we are gaining the approbation of Him who holds the weal of Humanity in His hand, blessed with the sweet companionship of the wife of his youth, amid the delights of a lovely home, surrounded with a goodly share of the comforts which faithful, persistent professional toil had earned, respected by his neighbors and loved by hosts of friends, Andrew Coolidge Stone, the upright citizen, the able lawyer, the impartial judge, the courteous Christian gentleman, and a Master-builder in our Mystic Temple, on the morning of Feb. 26, 1905, passed hence away, as suddenly as in the twinkling of an eye,
" Unto the bourne of long release,
The visioned port of final peace."
"He was born in Marlboro, Cheshire County, in the State of New Hampshire, on the eighteenth day of May, 1839. He was educated in the public schools of that town, in Appleton Academy, at New Ipswich, and in Phillips-Exeter Academy, from which latter institution he graduated ih 1860. Upon the completion of his studies he taught school in Walpole, in Keene, in New Ipswich, and in Peterboro, N.H. He soon afterwards began the study, of law in the office of the Honorable Daniel Saunders, in the city of Lawrence, Mass. In 1862 he enlisted as Sergeant in the L Company of the Thirty-third Massachusetts Regiment and served his enlistment term of three years. On being mustered out of army service he resumed his law studies, in Ashtabula, Ohio, was admitted to the bar in that State in 1867, and was married to Miss Mary F. Hurlburt of that place in 1869.
"He soon afterward returned to Lawrence, Mass., where he began a wide and growing practice. He served two terms in the Common Council of the City of Lawrence, was Chairman of the Republican Committee, a member of the Republican State Central Committee, a delegate to the National Republican Convention at Chicago in 1884, State Senator in 1880 and 1882, serving on both the judiciary and railroad committees, was appointed City Solicitor of the City of Lawrence in 1885, and in 1887 was appointed Justice of the Police Court of the City of Lawrence, which position he held at the time of his decease. He was Commander of Post 39 G.A.R. and Judge Advocate on the staff of the Commander of Massachusetts in 1888. He was a member and a zealous worker in the Lawrence Street Congregational Church, a member of the Middlesex County Association of Judges, and one of the incorporators of the Lawrence Home Club.
"He was made a Master Mason in Eureka Lodge, Portsmouth, R.I., in 1864, while in service in the Union Army. He became a member of Phoenician Lodge in Lawrence, Mass., Nov. 15, 1871, and on Sept. 20, 1876, was chosen Master of said Lodge, in which position he gave most acceptable service for two years. On Jan. 10, 1878, he was made a Royal Arch Mason in Mount Sinai Chapter, and on April 29, 1878, was dubbed a Knight Templar in Bethany Commandery, where he served as Warder in 1881 and 1882, and as Senior Warden in 1887 and 1888. On the 12th of May, 1897, he was enrolled a member of Lawrence Council of Royal and Select Masters. He was District Deputy Grand Master of the Tenth Masonic Massachusetts District from 1886 to 1888 inclusive, and was Senior Grand Warden of the Grand Lodge of Massachusetts for the year 1889.
"He was a member of Lowell Lodge of Perfection, of Lowell Council of Princes of Jerusalem, of Mt. Calvary Chapter of Rose Croix, of Massachusetts Consistory of Sublime Princes of the Royal Secret, 32d degree, and on Sept. 18, A.D. 1900, he received the 33d degree, and was enrolled an Honorary Member of the Supreme Council of the Ancient Accepted Scottish Rite for the Northern Masonic Jurisdiction.
"Such is the record of some of the salient points in the long, useful life of this Brother, whom we miss from our circle to-day and whose face will henceforth be seen only as memory paints it while the busy years go rolling by. But this does not describe the man. No aggregation of words, no ingenuity of phrase can adequately set forth that peculiar fineness of feeling, that sensitive sympathy which attracts to itself the esteem of others as the magnet deflects the, needle from its course. We can all bear testimony to the generosity, the gentleness, the judgment, the moral courage, the affectionate nature, the genial disposition, the religious faith, the loyalty, the gentlemanly demeanor and the ever-reliable, warm-heartedness of this Brother, of whose companionship we are now deprived, but behind all these qualities of character there was a subtle winning force, which compelled admiration and made even the stranger his friend.
"Beneath the family roof-tree, and among his kith and kin, the name of thisfman in time to come will be a talisman for the prompting of dreams; for us may it be an incentive, to faithful work and noble aims until we can no longer dream. When in an unexpected moment some Brother with whom we have touched elbows in line drops from our sight we are driven to solemn meditations, for we realize that we are moving very near the brink of the river which marks the limit of human affairs. What of the future? Who can tell? On what shall we rely? Shall it be the speculations of Philosophy, or shall we lean on the consolations of religious faith? But soon the consciousness of duties undischarged, of work unfinished and of promises unfulfilled, call us away from reverie ;, and so with a sort of desperate earnestness we. close up the ranks, and the battle of life goes fiercely on.
"Therefore, be it resolved that as members of this Most Worshipful Grand Lodge we bow in submission to the decree of Providence which thus, breaks a link in the chain of our Fraternal affection; and that expressions of deepest sympathy be tendered to the estimable lady who sits in tears for the loss of him who to her was a true and devoted husband, and to us a loved and loyal Brother."
Given in Grand Lodge, this eighth day of March, A.D. 1905, and thereto respectfully submitted.
SOLON W. STEVENS,
J. ALBERT BLAKE,
DANA J. FLANDERS.
---