GMWelch
From MasonicGenealogy
CHARLES A. WELCH 1815-1908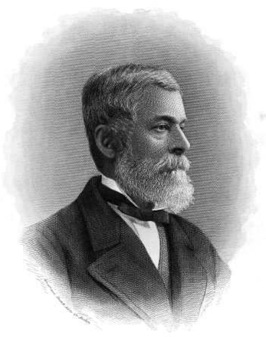 Deputy Grand Master, 1875-1877
Grand Master, 1878-1880
---
TERM
MEMORIAL
From Proceedings, Page 1908-13:
Charles A. Welch was born in Boston Jan. 30, 1815. He was initiated in Monitor Lodge, Waltham, April 22, 1861; was Junior Warden of that Lodge in 1865; Senior Warden in 1866 and Worshipful Master in 1868 and 1869.
Brother Welch was District Deputy Grand Master of District No. 4, in 1872, 1873 and 1874; Deputy Grand Master from Dec. 28, 1874, to Dec. 27, 1877, and was Grand Master from Dec. 27, 1877, to Dee. 28, 1880. He was elected a member of the Board of Directors December 13, 1865, and served until Dec. 9, 1896, a period of nearly thirty-one years, when he declined re-election.
Like a shock of corn - fully ripe - he was gathered home by the Great Harvester, Jan. 23, 1908, at the age of ninety-three years.
From Proceedings, Page 1908-17:
'Whom the gods love die young, was said of yore.' In more modern times we have changed all that. Since Christianity and Science have joined hands we have learned to believe that some mortals whom the gods love, or ought to love, are permitted to enjoy an old age serene and bright, blessed with memories of long and faithful service to fellow mortals.
Charles Alfred Welch was born in Boston, on the thirtieth day of January, 1815, and died in Cohasset, Mass., on the twenty-second of January, 1908, lacking only eight days of ninety-three years of age. He was the sixth child of Francis Welch and Margaret Crease (Stackpole) Welch. The father, born Aug. 30, 1776, was made a Mason in Old Colony Lodge, Aug. 21, 1797, became a member of St. John's Lodge, of Boston, Nov. 26, 1800, joined in the procession of 1830, at the laying of the corner-stone of the first Temple in Boston, and died April 27, 1867, aged ninety years and eight months. The grandfather of Charles A. was also a Mason, often present in Lodge and Grand Lodge, and acted as Steward at the Installation of John Rowe as Grand Master, Nov. 23, 1768. It thus appears that our late Grand Master came of good Masonic stock and inherited the disposition to hold fast that which is good. He was initiated in Monitor Lodge, of Waltham, April 22, 1861, became its Junior Warden in 1865, Senior Warden in 1866, Master in 1868 and 1869. His venerable father lived to see his son only one step from the Master's chair.
In December, 1871, Brother Welch was appointed District Deputy Grand Master of what was then the Fourth Masonic District, the Grand Master entertaining the hope that the interest of Brother Welch in the Fraternity might continue and ultimately lead to his election as Grand Master. That anticipation was realized. He was appointed Deputy Grand Master in December, 1874, and served during the three following years. In December, 1877, he was elected Grand Master and re-elected in 1878 and 1879.
Probably the most important service rendered during his Grand Mastership was the arranging for the renewal of the tax for the payment of the debt on the property which we are now occupying. The tax was first laid on the thirteenth of March, 1867, for thirteen years. It is believed that Brother Welch was personally, at that time, strongly opposed to the tax, and in point of fact never himself paid it, but left it for his Lodge to settle. When, however, it became necessary to decide for the future payment of debt and interest, there was no hesitation or delay on his part. He at once arranged for the fullest information to the Lodges as to the necessities of the case and the best means for meeting them. He planned and carried through the measures needful for renewing the tax, and accomplished the task to the general satisfaction.
Brother Welch was accustomed to form his opinions after careful consideration, but, when they were once formed, to change them was almost as impossible as to move the everlasting hills. Yet we have seen that when official duty seemed to require the change he could. and would make it himself, but woe to him who attempted to bring it about by outside pressure.
Brother Welch often referred to the fact that he was born on the site of the old Stackpole house, on the corner of Milk and Devonshire Streets, Boston, a property which his mother inherited. The writer of this memorial has the pleasure of recording that he first saw the light on the opposite corner of Devonshire street a few years after the advent of the hopeful scion of the Welch family.
The birthplace of Brother Welch was further consecrated by the laying of the Corner-stone of the United States Post Office on the sixteenth day of October, 1871, by Grand Master William S. Gardner, in the presence of General Grant and the whole Cabinet. The President maintained through the entire ceremony his usual apparently stolid and indifferent manner, never manifesting the slightest interest, until the Grand Master presented for his inspection the lock of Washington's hair which has been so sacredly preserved in our archives for the last one hundred years.
On that occasion the most imposing Masonic and military procession was organized that had ever been seen in Boston. The Grand Marshal, Col. William T. Grammer, who still lives, was in charge, and the procession and eervices were conducted with the most admirable order and success.
Brother Welch married Aug. 20, 1844, Mary Love Boott, daughter of Kirk Boott, of Boston, who was then engaged in manufacturing in Lowell, where the daughter was born Oct. 4, 1823. She died at Cohasset, March 29, l899. Two sons, Charles A. and Francis Clarke Welch, survive.
The professional life of our Brother was long and distinguished. He was graduated from Harvard College in 1888, studied law in a Boston office, was admitted to the Suffolk Bar in 1837, and in 1838 formed a partnership with Edward D. Sohier, which continued until that gentleman's death in 1888. This long association indicates that they were singularly adapted to working together. During that whole period the firm occupied a foremost position in their profession, it being Mr. Welch's part to argue most of the cases before the full bench. The dry details of the law were not the only matters which found a place in the varied affairs of the office. Each of the partners was gifted with a keen wit, and many an amusing story is told of the give and take which often enlivened the grave and sober conferences.
Brother Welch was admitted to the other branches of Masonry in the usual course, being exalted to the Royal Arch in St. Andrew's Chapter, of Boston, in 1862, becoming a charter member of Waltham Chapter, Knighted in St. Bernard Commandery, presiding in both of the latter Bodies, and receiving the honorary Thirty-third Degree of the Scottish Rite Aug. 17, 1876.
He was elected a member of the Board of Directors of the Grand Lodge Dec. 13, 1865, and served until Dec. 9, 1896, when he declined further election.
In view of the important and arduous duties of his profession, hi€s many other business engagements, official and otherwise, we must wonder that Brother Welch was able and willing to give so much time and strength to the service of the Fraternity.
With the deepest sentiments of gratitude his Brethren may pronounce the plaudit, Well done! good and faithful servant.
Respectfully submitted,
Sereno D. Nickerson
SPEECHES
AT GRAND LODGE, DECEMBER 1879
From Liberal Freemason, Vol. III, No. 11, February 1880, Page 336:
Among the official directions given by one of my predecessors was one, directing that no person should be admitted into a Lodge who was not properly known to be a Mason in good regular standing, unless he was vouched for by some well-known Brother, or produced the certificate of some Grand Lodge, and passed a strict examination. This regulation, which requires both an examination and a certificate, is dated Feb. 8th, 1872, was reported to the Grand Lodge at the Quarterly Communication in March, 1872, in an address made by the Grand Master, and has never been rescinded. I have reason to believe that some Masters of Lodges, not being aware of this regulation, have not always conformed to it; and your attention is therefore called to it, and you are desired to enforce it Strictly. Complaints have sometimes been made to me by Masons from other jurisdictions that they were excluded from our Lodges, and the privileges of Masonry, by this rule; but it is no good reason for the non-enforcement of a regulation or for its recision that it sometimes operates with hardship upon individuals; all rules do so at times; the general good is the matter to be considered and legislated for; and in these days, when impostors abound, and it is not impossible for them to acquire a sufficient knowledge to enable them to pass an examination, the written certificate is perhaps better, certainly as good a safeguard as the examination. Both together, with the visitors' book added, should be used to keep off the cowan and eavesdropper. If a Mason from another State or country comes here to remain any length of time, and cannot, for satisfactory reasons, procure a certificate or diploma, application should be made to the Grand Master, who will, when in his power, satisfy himself as to the Masonic character of the applicant, and, if on examination the case requires it, provide a remedy.
There has been, within a month past, in Boston and its vicinity, a person named C. C. Hurt, hailing from Jackson, Michigan, who has advertised that he will confer upon applicants, degrees of the Egyptian rite, so called. Neither this Grand Lodge nor its Grand Master have any authority over, or official concern with any degrees except the three degrees of symbolic Masonry ; but it seems to me proper, when I see any imposition attempted upon the Brethren, to warn them of it. I find that in the address of the late Grand Master of Michigan, delivered at the Communication held January 28th, 1879, this person is spoken of in a by no means complimentary manner. It is stated that he was expelled from Masonry by the Grand Lodge of New Jersey by a unanimous vote ; that the resolution was afterwards rescinded on account of a technical informality; that the original charges were then still pending against him; that he had been expelled from a Lodge in Jackson, Michigan, the place of his present residence, for the alleged crime of perjury, and that the case was then on appeal before the Grand Lodge of Michigan. What may have taken place since I do not know. He called upon me, and at his solicitation I fixed a time for meeting him and hearing his defense of himself and his rites ; but owing to being detained in professional duties, I was obliged to request the Grand Secretary to meet him. The Grand Secretary patiently heard all he had to say, and on a subsequent consultation between us we were satisfied that he had no right whatever, to confer these rites of Egypt, so called. Finding that he was of the legal profession, and having heard from respectable parties here that he did not bear a good character in that profession, I afterwards wrote confidentially to a gentleman of the first eminence in Michigan, inquiring into his character as a man; and the reply was: "I have a very slight acquaintance with Mr. Burt; but his reputation for integrity is anything but good." In conclusion, I will only add that if the Brethren desire to overlay their Blue Lodge Masonry with all the orders in existence — and many of these orders are no doubt worthy of great respect — they had better apply to those who have legal authority to confer them, and whose character as honest men will give some assurance that what they profess to impart has value.
There are so many secret organizations, some of them professing to be more or less connected with Masonry, although not so in reality, that it seems desirable that our Lodge rooms should, where the pecuniary condition of the Lodge will permit, be solely devoted to Masonic purposes; otherwise I fear that jealousies may arise and dissensions take the plate of harmony, The masters and officers of Lodges have at times consulted me on this subject, and this has been my advice; but I have also added that, if their means would not permit them to adopt this course, they might very properly lessen their expenses by occupying their apartments in connection with other associations. The great majority of the Lodges use their apartments for Masonic purposes only, and I am gratified to think that the opinion of nearly all of the brethren, with whom I have conversed on the subject, agrees with mine, that this manner of using them is far the best.
On examination quite lately of the Records of the Grand Lodge, in the Grand Secretary's office, I found that the only persons allowed by its vote to consult the standard authority for the work, which, as you know, is placed in the charge of the Grand Master, are the District Deputy Grand Masters, the Grand Lecturers, and the Acting Masters of Lodges. Although by some error the abstract of the records, as printed, varies somewhat in this respect from the original records, neither by the records nor by the printed abstract are the Wardens or Officers of Lodges, other than the acting Masters, authorized to consult it. How the mistake arose of allowing others to consult it I do not know; but it is evidently my duty, now that I have ascertained what the vole of the Grand Lodge was, to enforce it, and henceforth the standard work will not he open for consultation by any others than those who have been authorized by the Grand Lodge; namely, the District Deputy Grand Masters, the Grand Lecturers, and the Acting Masters of Lodges. Of course the Grand Lodge can pass such an order as it sees it: but I submit to the wisdom of the members, whether it is not almost time to restrict still farther the use of this work. The great object was to have a fixed standard. The Masters and working officers of each Lodge have now acquired each at least his own particular portion, and they can transmit these portions unimpaired to their successors, for the instructive tongue, the attentive ear, and the faithful breast, still remain with us; the Grand Lecturers can give their lectures as of old; and in case any question arises, about which the Grand Lectures differ, or arc in doubt, the standard work ran he appealed to. But I leave this matter to be decided by the prudence and discretion of the members of the Grand Lodge, in full confidence, or, at least, strong hope, that no mere considerations of convenience will lead them to decide contrary to the Hue interests of the Fraternity.
As it is not only important that the Masters and Officers of Lodges should be well acquainted with the work of the degrees, but also, to some extent, with Masonic usage and law, or have the means ready at hand to learn what that law and usage is, I cannot too strongly recommend all who are able, to purchase the Masonic Digest recently compiled by R. W. Bro. Cheever.
NOTES
CHARTERS GRANTED
CHARTERS RESTORED
RULINGS
---