GMJaynes
From MasonicGenealogy
HERBERT H. JAYNES 1905-1989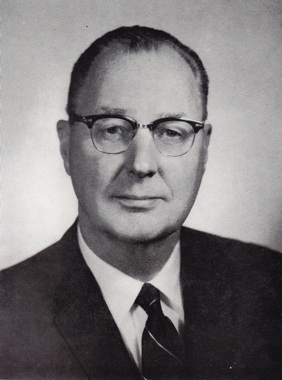 Junior Grand Steward, 1948
Grand Marshal, 1951-1953
Senior Grand Warden, 1954
Grand Master, 1969-1971
---
TERM
NOTES
MEMORIAL
FROM PROCEEDINGS, 1989
From Proceedings, Page 1989-148:
Bom in Cambridge, Massachusetts, on March 4, 1905
Died in Charlton, Massachusetts, on September 21, 1989
On September 21, 1989, Massachusetts Masonry lost one of its pillars in the passing of Herbert Harold Jaynes, Past Grand Master of the Grand Lodge of Masons in Massachusetts. It was fitting that his final years were spent in the facility to which he had devoted so much over so many years, the Masonic Home at Charlton, Massachusetts.
Herb, as he was affectionately known by all who knew him, was born in Cambridge, Massachusetts on March 4, 1905, son of James and Deborah (Manuel) Jaynes and educated in the Belmont Public Schools, Boston University and Franklin Institute. He was employed as a Sales Manager for Jenkins Bro., a commercial valve company, for over forty years. In l934,he married A. Mildred Shedd and they were blessed with two children, Peter who survives him, and Nancy Foose.
His activities in the First Congregational Church of Waverly commenced as a youth and extended over his lifetime during which he served in many capacities including Church School Superintendent, Chairman of the Board of Trustees and Deacon.
A Memorial Service was held at the Church on September 26, 1989, with his brother; his nephew; M.W. Albert T. Ames, Grand Master and M.W. J. Philip Berquist, Past Grand Master, participating. He served as a Trustee of the New England Deaconess Hospital, Director of the Cambridge Y.M.C.A., a member of the Engineers Club and Director for many years, arid a member of the Bostonian Society, the Lexington Golf Club, the Algonquin Club of Bridgeport, Director of the Boston Chamber of Commerce and was a member of numerous civic groups. He was for many years a Belmont Town Meeting Representative and was President of the P.T.A. in 1956.
Entering Belmont Lodge, A.F. & A.M., in 1938, he began a Masonic career which spanned five decades and his service to the Fraternity has rarely been matched in the past and will be difficult to be matched in the future. He filled the office of Worshipful Master in 1946. He was a member of Belmont Royal Arch Chapter; Boston Council, Royal and Select Masters; he was Knighted in St. Bernard Commandery No. 12, Knights Templar, March 12, 194'7 and served as Commander in 1955, in the York Rite of Freemasonry.
Brother Jaynes joined the Scottish Rite Bodies in the Valley of Boston in the Fall of 1944 and became a Guard in Mount Olivet Chapter of Rose Croix in 1947 which ultimately led him to the office of Most Wise Master in 1963-1966. He was created a Sovereign Grand Inspector General, 33°, Honorary Member of the Supreme Council on September 29, 1965, in Cleveland, Ohio. Subsequently, he served the Valley of Boston as Secretary of the four Bodies and the Massachusetts Council of Deliberation in that capacity as well as Master of Ceremonies from 1972 to 1986.
In Grand Lodge his exemplary service began upon his appointment as Junior Grand Steward in 1948, followed by his appointment as Grand Marshal by Most Worshipful Thomas Sherrard Roy in the years 1951-1953, receiving the Henry Price Medal in 1952. He was elected Senior Grand Warden in 1954.
On December 11, 1968, Brother Herbert Harold Jaynes was elected Most Worshipful Grand Master of Masons in Massachusetts and on December 27, 1968, was installed as such. He served in that capacity for the years 1969, 1970 and 1971. His great contributions made to Freemasonry and to the Grand Lodge of Massachusetts during that period were accomplished with dedication, compassion, integrity and vision to the future. The move from Shrewsbury to Charlton of our Juniper Hall Nursing Home was at his direction. His subsequent chairmanship of our Masonic Home Building Committee saw tremendous improvement in the quality of life for our residents and in the facility. As Treasurer of the Grand Lodge his service over many years was unique and in his capacity as Director of Grand Lodge, member of the Masonic Education and Charity Trust, member of the Education Committee, he served with distinction. His interest in youth was ever evident and his long years of service as a member of the DeMolay Foundation of Massachusetts was recognized by the conferral of the DeMolay Legion of Honor upon him.
His Honorary Memberships included those in Oklahoma, Washington, Ohio and Panama Grand Lodges and numerous Masonic organizations in Massachusetts. He represented the Grand Lodges of Nuevo Leon Mexico and Maryland as well as Ancient Landmark Lodge near our Grand Lodge.
He was the recipient of Distinguished Service Medals from Grand Lodge of Pennsylvania, Nova Scotia. New Hampshire. New York. Rhode Island, Panama. New Brunswick, from the Royal Arch of Israel and Massachusetts and Aleppo Temple, A.A.O.N.M.S. Brother Jaynes was a member of many Masonically-allied organizations which included the Red Cross of Constantine in which he was a Past Sovereign of St. Matthew's Conclave in Springfield, the Societas Rosicruciana in Civitatibus Foederatis, in which he served as Treasurer of Massachusetts College and Treasurer-General of the High Council in the United States, and Damascus Tabemacle, H.R.A.K.T.P.
Despite the many honors which had been bestowed upon him and the many positions of authority which he had occupied, he ever remained a humble and gentle man, friendly to all, and always giving of himself by counsel when requested and of his time when needed. His immortality is assured by the memories which each of us share of his character, his warmth, and of his valued advice.
May the Grand Architect of the Universe have Herbert Harold Jaynes in his keeping, and share, as we did, the many benefits of his association.
A Fraternal Remembrance by,
Most Worshipful Whitfield W. Johnson, Esquire, Honorary Chairman
Most Worshipful Laurence E. Eaton
Most Worshipful Donald W. Vose, Chairman
Most Worshipful Stanley F. Maxwell
Most Worshipful Arthur H. Melanson
Most Worshipful J. Philip Berquist
Most Worshipful David B. Richardson
FROM TROWEL, 1990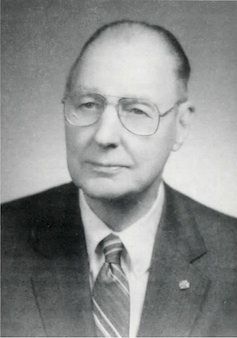 From TROWEL, Spring 1990, Page 34:
Herbert Harold Jaynes, Grand Master of Masons in Mass. 1969-71, Past Grand Treasurer and Treasurer of Boston Valley, Scottish Rite, died Sept. 21, 1989, at the Masonic Home, Charlton, where he and his late wife, Mildred (Shedd) had been residents. They had lived in Belmont during most of their married life, where he had been a Town Meeting Member there. It was during his first year as Grand Master that the infirmary was included in the construction of the new wing at Masonic Home and the Shrewsbury hospital closed. Bro. Jaynes later chairmanned the refurbishing of the Davenport and Williams wings at the Home.
Born in Cambridge in 1905 and educated in its public schools and the at Lincoln and Franklin Institutes, he had been retired as sales manager of the Jenkins Bros. Valve Co. He had been a director of the Cambridge YMCA, member of the Engineers Club of Boston, and active in the Waverley Congregational Church of Belmont, where a memorial service was held after his death.
Raised in Belmont Lodge in 1939, he was its Worshipful Master in 1 1946. His travels through Grand Lodge began in 1948 as Junior Steward. He was Marshal to M. W. Thomas Sherrard Roy, 1951-53, and was Senior Grand Warden in 1954 when he received the Henry Price Medal. He was exalted in Belmont Royal Arch Chapter in 1946, greeted in Boston Council in 1959, and knighted in St. Bernard's Commandery in 1947, serving as Commander in 1955. He had held Honorary Membership in 12 lodges and four Grand Lodges and was the Grand Representative to Nuevo Leon, Mexico, 1952-55, and the Grand Lodge of Maryland, 1955 until his passing. He was active in the Grand Lodge Education Committee, 1947-62.
Activities of his 1970 and 1971 administrations as Grand Master have resulted in the two thickest books of our Grand Lodge Proceedings. He visited 37 lodges in 1970 and 39 in 1971. One of his first official acts in 1969 was to unveil the portrait of M.W. Thomas S. Roy which hangs beside that of M. W. Isaiah Thomas in the Worcester Masonic Temple. Given a purse of $6200 at his reception, he turned it over to Masonic Home for the purchase of furniture. He visited St. Alban's Lodge, Foxboro when that Lodge and the Knights of Columbus joined to sponsor a drug program for the town. At each of his 1969 Quarterly Communications of Grand Lodge, a Grand Chaplain offered a moral lesson to the Craft. The issue of Prince Hall Masonry resurfaced and the refusal of the International Order of Rainbow Girls to admit blacks became a topic of discussion and correspondence.
In 1971, Bro. Jaynes received in Grand Lodge R. W. T.H. Peter Chao who had received his degrees in our Sinim Lodge when in Shanghai, and was the Senior Warden of the Grand Lodge of China F. and A. M. Bro. Chao concealed the charter and records of Sinim Lodge when the Japanese entered Shanghai. Records of our other two China lodges were destroyed. Roberta Hankamer began her duties as our Librarian, and on Nov. 28, 1971, Bro. Jaynes laid the cornerstone of the new Knights of Columbus building in South Boston for Pere Marquette Council No. 271. Thomas J. Foley was the Grand Knight, and prayer was offered by R.W. John Prescott Robertson, Grand Chaplain and Rev. John P. Kelly, J Chaplain of Pere Marquette Council. Fifty members of Grand Lodge attended wearing striped trousers and silk hats, aid the drummers of Aleppo Temple also participated in the cornerstone laying. Grand Lodge made the gift of the 300-pound cornerstone. The pamphlet, "Freemasonry, A Way of Life," was published near the close of M.W. Jaynes' third year as Grand Master. He apprised the Craft of the four lettered words that should be remembered by Masons: hate, love, help, pray, work and vote. A plaque on the wall of the Williams wing at Masonic Home tributes him for his work in the restoration of the building that was to be his last home before Passing to the Celestial Lodge above.
He is survived by a son, Peter H. Jaynes of Mt. Pleasant, Iowa; a brother, Walter Jaynes of North Carolina; a sister, Olive Whalen of Marston's Mills, Cape Cod; and several grandchildren. A daughter, Nancy, had preceded the deaths of her parents. Memorials to him may be made to the Memorial Fund of the Waverley Congregational Church, Trapelo Rd., Belmont; the Herbert H. Jaynes Memorial Fund, c/o Masonic Home, P.O. Box 1000, Charlton, MA 01507, or to the Alzheimer's Society for Research, c/o Tufts Medical Center, Stuart St., Boston, MA 02111.
Despite the many honors that had been given him, and the many positions of authority which he had held, Bro. Jaynes always remained a most humble and gentle man, friendly to everybody and ready to offer counsel when asked. He was, to TROWEL's editor, the epitome of Brotherhood. His immortality is assured by the memories which each of us now share of his character, warmth, advice, and service to mankind.
CHARTERS GRANTED
RULINGS
---